VUU alum played for late Coach Don Shula with the Baltimore Colts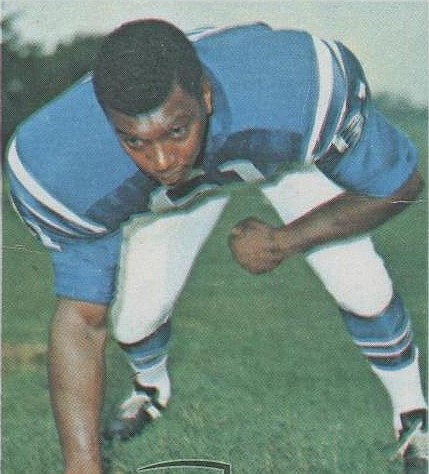 A native Richmonder played at least a small role in the historic coaching legacy of the late Don Shula.
Cornelius "CJ" Johnson, an alumnus of Virginia Randolph High School in Henrico County and Virginia Union University, was an offensive guard for six seasons with the Baltimore Colts, including under Coach Shula from 1967 to 1969.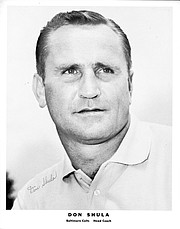 Coach Shula, who had the most coaching victories (347) in NFL history, died Monday, May 4, 2020, at age 90.
Johnson, born in Richmond on May 12, 1943, died in 2017 in Prescott, Ariz.
Mr. Johnson's 1968 football card says that he is "the fastest lineman on the team."
Under Coach Thomas "Tricky Tom" Harris at VUU, the 6-foot-2, 245-pound Mr. Johnson played on both the offensive and defensive lines.
Coach Shula saw enough in Johnson to make him the Colts' seventh round draft choice in the spring of 1967.
Johnson played under Coach Shula during the 1967, 1968 and 1969 seasons, with the Baltimore Colts going 32-7 during that time and winning the NFL championship in 1968.
Coach Shula left the Colts to become coach of the Miami Dolphins in 1970 and was replaced in Baltimore by Don McCafferty.
Johnson was a reserve guard and a special team's performer on the Colts' 1968 Super Bowl team that was upset by the New York Jets under quarterback Joe Namath.
The former VUU Panther went on to play with the Colts until 1973 and was a regular on the 1971 squad that won Super Bowl V against the Dallas Cowboys.
For his career, Johnson played in 74 NFL games and later competed in 16 games for the Honolulu Hawaiians of the World Football League. Johnson suffered major setbacks in his final years. He lost a leg due to complications from diabetes and MRSA and lost much of his vision due to a series of strokes.
Through it all, he never lost his sense of humor. Here are some items Johnson told Courier Video in 2013.
• On blocking for quarterback Johnny Unitas:
"When you're an offensive lineman and you're in the hole and Johnny Unitas is there ... it's like a God is in there and you're not going to get him hit."
• On facing Dallas lineman Bob Lilly:
"I made a block and got hit in the stomach. It was a bad block. On the next play, Bob Lilly got down in front of me and I threw up—threw up on Bob Lilly. He jumped and the referee gave him a 5-yard penalty for jumping off sides. From then on, all I had to do was clear my throat and Bob Lilly jumped back."
• On Coach Shula, known as a strict, no- nonsense team leader who taught professionalism at all times:
"Let me tell you the story. Don Shula was the type ... never forget, we were in the locker room and being big kids. We were throwing water, buckets of water.
"Well, John Mackey was throwing water, and when Don Shula came around the corner, you've never seen a man try to put water back in the bucket so fast ... it was unbelievable."
Johnson, with wife Christy, lived in Prescott, Ariz., many years and became involved with area youth programs. Here is what was said about him in his obit in the Prescott Daily Courier:
"He lived an amazing life that cannot be put into words. His impact touched many lives.
"God gave CJ the gift to mentor and coach many of the youth of Prescott over the past 20 years. It was his desire to be a positive influence on their lives.
VUU to the NFL
Cornelius "CJ" Johnson was the fifth player from Virginia Union University to be drafted by NFL and AFL teams. The others:
1961: Hezekiah Braxton, running back, drafted by San Diego, 12th round
1963: Harlow Fullwood, defensive tackle, drafted by the Baltimore Colts, fourth round
1964: Roger Anderson, defensive tackle, drafted by the New York Giants, seventh round
1966: Monroe Beard from Richmond's Armstrong High School, wide receiver, drafted by Minnesota, 17th round
1967: Cornelius Johnson, offensive lineman, drafted by the Baltimore Colts, seventh round