Former TJ, South Carolina standout reclaims the headlines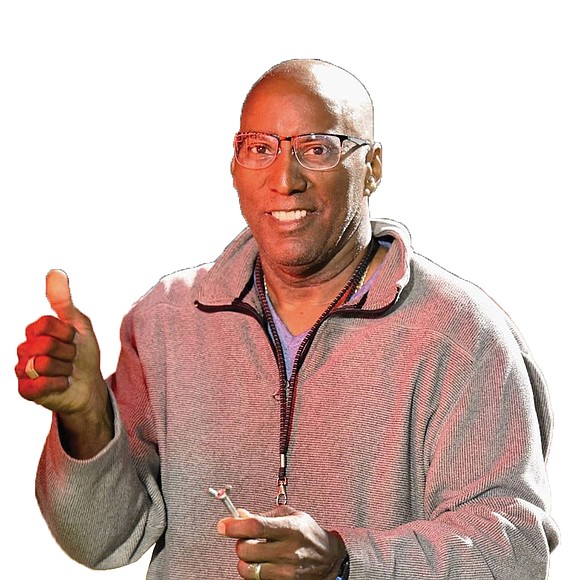 Much to his own surprise, Philip Logan is back in the news.
Upon hearing his name had returned to the sports pages and electronic media, Logan's comical reaction was: "Thanks for digging up the dead."
Here's the deal:
Wide receiver Jaylen Jones, a senior-to-be at Richmond's Thomas Jefferson High School, recently signed a full National Letter of Intent with Virginia Tech.
TJ school officials determined Jones was the first Viking to land a Power-5 Conference scholarship since another wide receiver — Logan — joined the University of South Carolina in 1974.
The 46-year drought made headlines in various accounts of Jones' signing.
Playing at TJ under then-head Coach Lloyd Swelnis and receivers' Coach Dave Robbins, Logan was a two-time Group AAA All-State pick and was heavily recruited by big time football programs.
Logan recalls signing with then-South Carolina assistant Coach Jerry Stovall, a former NFL player who later became head coach at Louisiana State University, at his North Side home following the Thomas Jefferson High School Awards Banquet.
"Coach Stovall drove me home from the banquet and kind of put the pressure on me," Logan recalled. "I signed something really to kind of get him out of the house. He kind of tricked me. I wasn't sure what I'd signed.
"Then when I got to school the next day, there was a (news- paper) story saying 'Logan Signs with South Carolina.' "
It worked out well. In four seasons at the University of South Carolina, Logan caught 105 passes for 1,863 yards and 15 touchdowns. He set a Tangerine Bowl record with nine receptions in 1975.
One reception stands out and is still draws oohs and ahhs on YouTube.
In the team's final seconds of a win against arch rival Clemson University, Logan made a 40-yard catch and did a zig-zagging run into the end zone that gave South Carolina a 26-24 lead, and sent fans into a frenzy.
"That was on fourth and 12," Logan recalled. "It all came down to that."
There also was an 80-yard catch-run that led to a victory at the University of Mississippi.
Always a deep threat, Logan still holds the University of South Carolina record for most yards per catch — 19.6.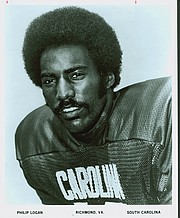 The Richmond native had a serious tryout with the NFL's Green Bay Packers in 1978, but instead of pursuing a gridiron career, he turned to business and put his marketing degree to work.
Now living in Marietta, Ga., with wife Brenda, Logan is owner, founder and chief executive officer of The Perfect Timing Group that provides computer-based timing to track and field, cross country and road race events throughout the South.
Logan describes himself as a "techy guy."
"In my day, we were timed by stop watches," said Logan. "Now we've replaced the stop watch with a computer."
Logan was bused to Thomas Jefferson High School during a time when the West End school was predominantly white.
"I think the year before I went there, TJ had one black player," Logan recalled. "It was a culture shock."
Logan flourished at TJ on the football field, the track oval and in the classroom. He says this about his mentors:
• Coach Swelnis: "I grew up in a house with no father. Coach Swelnis was the closest to a father figure I ever had."
• Coach Robbins: "I learned more from Coach Robbins than any other coach I ever had."
•Track Coach Jim Holdren: "Coach Holdren talked me into running track and it's one of the best things that ever happened to me."
Logan went on to set the TJ record for the 220-yard dash in 21.5 seconds.
An inductee into Richmond Public Schools Hall of Fame, Logan tries to keep in touch with TJ athletics and is thrilled with the program's recent success.
This past season, with All- State Jones a ringleader, the Vikings won 11 football games while advancing to the State 2A semifinals.
Jones' success led to the mention of Logan's long-ago achievements.
"I feel alive again," Logan said with a friendly chuckle.