TJ Vikings looking for victories
Fred Jeter | 8/22/2014, 3:05 p.m.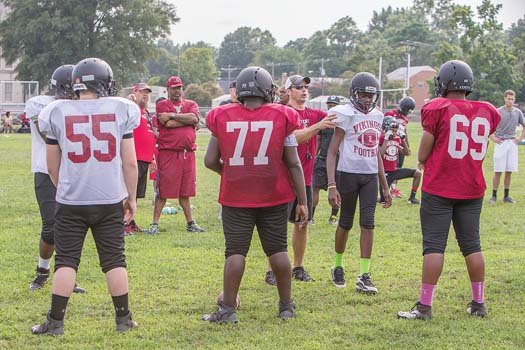 Coach Chad Hornik's checklist for Thomas Jefferson High football is nearing completion.
Check out this three-year progress report:
New uniforms, locker room: Check, check.
New scoreboard, field irrigation system: Check, check.
Upgraded weight room: Check.
Making playoffs: Check again.
A winning record?
"We've got some great things going on," said Hornik. "And with 16 starters coming back, we're going to get better.
"But how that will be reflected in the record remains to be seen."         
TJ's three wins in 2013 surpassed the previous seven years combined. Finishing 3-8, the Vikings made the VHSL playoffs for first time this century, falling at Central-Woodstock.
Hornik's determined behind-the-scenes work, with the aid of assistant coaches and a TJ Vikings Fund support group, has worked minor miracles at the ancient West End school that opened in 1930.
Against schools of similar enrollments (about 800), the Vikings have scrapped their cannon fodder image and appear primed for a breakout campaign. 
TJ's albatross is a heavy schedule.
While TJ is a 3A school, it is locked into a slate with 5A/6A schools twice its size in western Henrico and Hanover.
It's a steep climb.
Since 2004, TJ is 0-10 each against Hermitage, Patrick Henry, Deep Run, Douglas Freeman and Mills Godwin and 1-9 vs. J.R. Tucker.
TJ is member of 3A Conference 26 but doesn't play a C-26 schedule except for John Marshall, Armstrong and Petersburg. Bound by contract, TJ continues facing what amounts to an old Colonial schedule. 
Despite being the underdog most nights, the Vikings hope to nudge their victory count forward, albeit slightly, and return to 3A playoffs for more evenly matched gridiron tussles. 
Hornik, also owner of the Melting Pot restaurant, would prefer accentuating positives in an upward-bound program.
Here's what Hornik says of these Vikings standouts:
Quarterback Asante Williams: "His legs will cause lots of problems (for defenses)," says Hornik. "Our offense is designed to accommodate his running talent."
Tailback Demon Welton: "Fastest kid on the team."
Linebacker Tre'Shawn Winston: "Excellent athlete; the complete beast."
Two-way lineman Ali Hawash (6-5, 325): "A Division I caliber kid."     
•
History lesson
Jefferson was one-third of a powerhouse during period when Thomas Jefferson, Huguenot and George Wythe merged to form the "JHW complex," 1979-85.
JHW Trojans reached Central Region playoffs three times, losing to Petersburg in 1979, Highland Springs in '81 and Hopewell in '83.
Other "complex" programs were the Armstrong-Kennedy Jaguars and the Marshall-Walker Cavaliers.
•
Old honor roll
Ex-Vikings include All-State receiver Philip Logan, who went on to star at the University of South Carolina. From 1974-77, Logan caught 105 passes for 2,063 yards and 15 touchdowns. His 19.6 yards-per-catch average still ranks No. 1 among Gamecocks.
Another notable alumnus is Johnnie Jones, the area's first soccer-style place kicker. Jones later kicked at University of Richmond and still holds UR record for longest field goal, 56 yards vs. Appalachian, 1975. Jones also booted a 44-yarder vs. West Virginia.