TJ High players: 'This is our year'
9/16/2016, 7:14 p.m.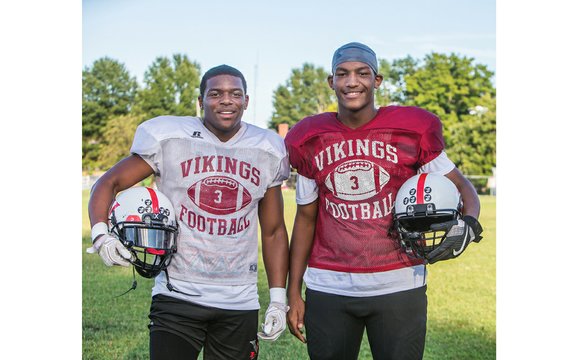 Power plus speed plus agility equals Jalen "Buddy" Jackson.
The 16-year-old Thomas Jefferson High School junior is that special tailback capable of giving tacklers a headache running over them or a head cold whooshing past them.
"Buddy is a pretty dynamic kid," said the Vikings' first-year Coach Chris Mitchell. "He was chosen as one of the top five running backs this past summer at the University of Virginia camp."
The 5-foot-10, 205-pound Jackson inherited both athleticism and a nickname — "Buddy" — from his father, James Jackson, a former standout at Thomas Jefferson High.
"He's got speed and strength, and moves, too. We've got video of Buddy leaving a linebacker standing still," Coach Mitchell said of the gifted ball toter.

Jackson, who played quarterback as a freshman and sophomore, enjoyed a rousing coming-out party as an all-round offensive threat in Thomas Jefferson's 24-0 rout of Armstrong High School on Sept. 2, the team's second game.
Squaring Thomas Jefferson's record this season at 1-1, Jackson carried the ball 11 times for 106 yards and a touchdown, caught a 23-yard pass from quarterback Manu Moss and returned a kick 78 yards for a second touchdown.
"I really wanted to have a good game to make up for my first game, when I cramped up against Huguenot," said Jackson, also a defensive cornerback. Thomas Jefferson lost to Huguenot 34-9.
"Armstrong was my make-up game."
Jackson, ranking with Thomas Jefferson's strongest and fastest athletes, relishes transferring from quarterback to tailback.
"My true position is running back," he said. "I like to think of myself as a versatile back. I can go inside and out and I enjoy running pass patterns."
Thomas Jefferson's defensive stalwarts against Armstrong High School were Gyasi Hale and Kahli Andrews.
Like Jackson, the 6-foot-2, 220-pound Moss is new at quarterback after spending 2015 on the offensive line. In the process, he has gone from wearing No. 69 to a more quarterback friendly No. 3. Already with two touchdown passes to his credit, Moss also plays defensive end and serves as the Vikings' punter.
Moss, too, has an athletic family tree. His grandfather, former Virginia Union University basketball standout Carl Smith (career 1954-1958), is a member of VUU's Athletic Hall of Fame.
Moss' uncle, Bryan Randle, a former Virginia Tech quarterback, was the Atlantic Coast Conference football Player of the Year in 2004.
"He (Randle) came to our scrimmage and is coming to see us play on homecoming," said Moss.
Thomas Jefferson will celebrate homecoming 4 p.m. Oct. 7 against longtime crosstown rival John Marshall High School.
Homecoming will be the Vikings' sole on-campus game of the year. There are no lights for night games.
And there are other pitfalls.
The Vikings will operate this season without a junior varsity outfit. That means no JV apprenticeship for freshmen like 240-pound starting nose guard Chris Iverson. 
Thomas Jefferson, which opened in 1930 as Richmond's "West End" school, has struggled mightily on the gridiron during the 21st century. Between 2005 and 2011, Thomas Jefferson won just one game.
Chad Hornik arrived as coach in 2012. Pumping fresh enthusiasm and pride into the program, he led the Vikings to a 9-32 record for four seasons, including 3-7 a year ago.
A chronic problem is a much too heavy schedule.
Thomas Jefferson is in the 3A division based on enrollment, with eight games against either 4A or 5A programs.
Coach Mitchell, a former assistant under Coach Hornik, took over as head coach when Hornik moved to Deep Run High School in Henrico County. Coincidentally, the Vikings will close their regular season schedule Nov. 4 at Deep Run High.
The Vikings are convinced after that, they will advance to the Region 3A East playoffs.
"This year we're going to come out of the shadows and shock the city," said Moss.
Jackson concurred.
"We're disciplined and hard working," he said. "This is our year."