Amy Coney Barrett
10/15/2020, 6 p.m.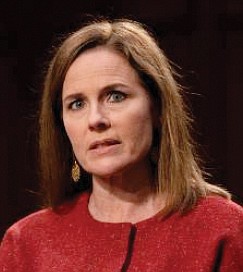 We have been disgusted, but not surprised by Judge Amy Coney Barrett's evasive maneuvering during this week's Senate confirmation hearings.
Judge Barrett, a conservative Catholic who currently sits on the 7th U.S. Circuit Court of Appeals based in Chicago, was nominated by President Trump to fill the U.S. Supreme Court vacancy left by the Sept. 18 death of Justice Ruth Bader Ginsburg.
Judge Barrett is no Ruth Bader Ginsburg. Far from it. What the 48-year-old Judge Barrett stands for is diametrically opposed to many of the rights that Justice Ginsburg advanced and fought to protect during her long and illustrious legal and judicial career that culminated with 27 years on the nation's highest court.
We find Judge Barrett's nomination to replace Justice Ginsburg as offensive and insulting as Clarence Thomas' was to replace Justice Thurgood Marshall.
Now with the Supreme Court stacked with conservatives, Judge Barrett's addition to the court could prove to be the tipping point to undoing in short order the legacies built by Justice Ginsburg and Justice Marshall on abortion rights, voting rights, gay marriage, school desegregation and health care, just to name a few.
President Trump vowed that his next Supreme Court nominee would eliminate the Affordable Care Act, or Obamacare, something our irrational president has unsuccessfully tried to get rid of since he took office. He has that person in Judge Barrett, who was critical of the ACA in writings and petitions before she became a federal judge in November 2017. She signed a petition opposing the ACA's provision that employers provide birth control coverage in insurance plans. She said, through the petition, that it infringed on religious freedom.
She also wrote a journal article in 2017, just months before going on the bench, arguing against a 5-4 ruling by the Supreme Court upholding the ACA. She criticized Chief Justice John Roberts for his siding with the majority.
Yet during this week's confirmation hearings, Judge Barrett claims that she made no commitments to the president on how she would vote on ACA-related cases and would keep an open mind.
We don't believe that. She is trying to gaslight Americans.
The U.S. Supreme Court is scheduled to hear arguments on Nov. 10 in a case that would essentially abolish Obamacare. That's why the president and Senate Republicans are rushing her confirmation. She would become the ninth — and potentially tie-breaking — justice on the case that could cause 26 million people to lose their health insurance.
The Economic Policy Institute, a nonpartisan think tank, has estimated that roughly 6.2 million workers who had health insurance through their employers have lost it during the pandemic as businesses have shut down or closed. With covered family members factored in, that estimate rises to 12 million people who have lost health insurance because of the rise in unemployment during the pandemic.
On the court, Judge Barrett would fulfill President Trump's deepest desires — to take America back in time. She signed onto an anti-abortion ad blasting Roe v. Wade, the landmark 1973 Supreme Court decision that legalized abortions in the United States. The ad was sponsored by a University of Notre Dame faculty group, where she served on the law school faculty from 2002 until going on the bench three years ago.
We found particularly telling her responses to Tuesday's questioning by Democratic Sen. Dick Durbin of Illinois about her thoughts on George Floyd's death and racism in America. She talked about how two of her seven children — both adopted from Haiti — were particularly impacted by Mr. Floyd's death.
She said with two Black children, "that was very, very personal for my family. ... My children, to this point of their lives, had had the benefit of growing up in a cocoon where they have not yet experienced hatred or violence."
But when asked by Sen. Durbin about the issue of race in America, she fell flat. She said while she was "happy" to discuss her family's reaction to the brutal video of Mr. Floyd's death, she said giving "broader statements" or "broader diagnoses about the problem of racism is kind of beyond what I'm capable of doing as a judge."
In subsequent questioning by Sen. Durbin, it was clear Judge Barrett believes a felon's right to carry a gun is more important than a felon's voting rights. In a recent case, she wrote a dissenting opinion saying nonviolent felons should not lose their constitutional right to own a firearm, while she said during the hearing that voting rights are civil rights granted by states and are not written into the Constitution.
Oddly, she calls herself an "originalist" in interpreting the Constitution, giving primary weight in her legal decisions to the intentions of the framers of the document at the time it was written. She also calls herself a "textualist," meaning she interprets the law strictly according to the text and not the goals of those who wrote the law.
If that were the case, then her two Black children legally still would not be counted as a whole person. And, as others have pointed out, she, as a woman, would not even be considered for a judgeship. As with Black people, the framers of the Constitution didn't afford women the full right of citizenship. It wasn't until the 19th Amendment was passed in 1920 that women — mostly white women — were given the right to vote under the Constitution. And even today, the Equal Rights Amendment guaranteeing women equal rights under the law has not been added to the Constitution.
Some originalists have used that basis of interpretation to essentially invalidate Brown v. Board of Education and Loving v. Virginia, claiming the 14th Amendment's guarantee of equal protection under the law doesn't require public schools to be de-segregated or protect the right of interracial couples or gay couples to be married. They see use of the 14th Amendment to protect marriage and desegregate schools as judicial overreach.
What is clear from this week's hearings is that Justice Barrett is dangerous and, despite any Polly Purebred way she may come off, she will cause a world of hurt and pain to millions of Americans should she be confirmed by the U.S. Senate.
If she really were truly an originalist, she would remove her name from consideration for the court. But we know that will not happen.
Because Republicans hold the majority in the Senate, Judge Barrett is expected to be approved by the Senate Judiciary Committee when it votes next week and confirmed by the full Senate in short order after that.
In the interim, we call on people of conscience and conviction who don't want to see the erosion or abolition of voting rights, women's rights, marriage rights, civil rights and health care to contact U.S. senators, including members of the Senate Judiciary Committee, and urge them not to confirm Judge Barrett's nomination to the U.S. Supreme Court. Senate members can be reached via the U.S. Capitol Switchboard at (202) 224-3121, or they may be emailed. Names and emails can be found at www.senate.gov.
This is no time to be taken back to the past.