MLB Hall of Famer Joe Morgan dies at 77
Fred Jeter | 10/15/2020, 6 p.m.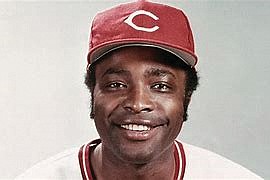 Baseball Hall of Famer Joe Morgan, a key component of Cincinnati's Big Red Machine in the 1970s, died Sunday, Oct. 11, 2020.
Mr. Morgan was 77 and living in California.
During a dazzling big league career from 1963 to 1984, the 5-foot-7 second baseman was a 10-time All-Star and five-time Golden Glove recipient.
Batting left-handed but throwing right, Mr. Morgan was the National League MVP in 1975 and 1976, both times spur- ring manager Sparky Anderson's Cincinnati Reds to World Series championships.
Mr. Morgan's career totals included 268 home runs, 1,133 runs batted in, 689 stolen bases and 1,650 runs scored. He drew 1,865 bases on balls while striking out just 1,015 times.
His signature trait was his "chicken wing" batting stance. To remind himself to keep his left elbow high, he flapped the arm repeatedly while awaiting pitches.
Mr. Morgan, who grew up near Oakland, Calif., broke into the majors with the Houston Astros in 1963 and spent 10 seasons in Texas before being traded to Cincinnati in 1971.
In Ohio, Mr. Morgan joined a talented team, including catcher Johnny Bench, third baseman Pete Rose, first baseman Tony Perez, shortstop Dave Concepción and outfielders Ken Griffey Sr., George Foster and César Gerónimo.
He later played again one season for the Houston Astros before going to the San Francisco Giants, the Philadelphia Phillies and the Oakland Athletics. His last MLB appearance was in September 1984 for the Oakland Athletics. Following his retirement, Mr. Morgan enjoyed a distinguished career as a baseball commentator for ABC, NBC and ESPN. He returned to the Reds in 2010 as an adviser.
Mr. Morgan's No. 8 jersey was retired by the Cincinnati Reds in 1998. He was selected to baseball's Hall of Fame in 1990.
Mr. Morgan is the fifth baseball Hall of Famer to die since Sept. 2. Others were Tom Seaver, Bob Gibson, Lou Brock and Whitey Ford.