Pope makes D.C. archbishop first Black cardinal in U.S.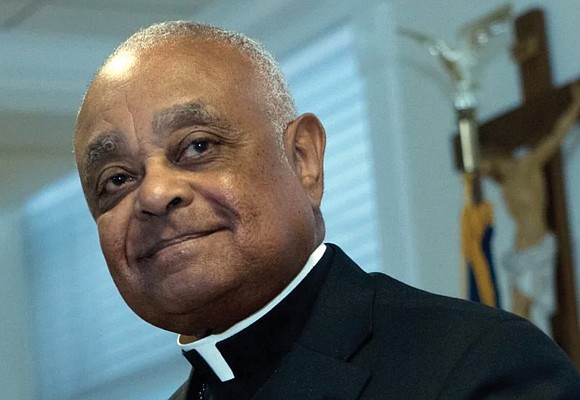 WASHINGTON - Washington D.C. Archbishop Wilton Gregory is now the first Black U.S. prelate to assume the rank of cardinal in the Roman Catholic Church, a historic appointment that comes months after nationwide demonstrations against racial injustice.
Archbishop Gregory's ascension, announced Sunday by Pope Francis alongside that of 12 other newly named cardinals from several nations, elevates a leader who has drawn praise for his handling of the sexual abuse scandal that has roiled the church and publicly criticized President Trump's for hoisting a Bible at a Washington church after using authorities to clear demonstrators by tear gassing them in June.
Ordained in his native Chicago in 1973, Archbishop Gregory took over leadership of the capital's archdiocese last year after serving as archbishop of Atlanta since 2005. He will turn 73 just days after the ceremony making his elevation official on Nov. 28.
"With a very grateful and humble heart, I thank Pope Francis for this appointment which will allow me to work more closely with him in caring for Christ's Church," the archbishop said in a statement issued by the archdiocese.
Leading Catholic organizations cheered the choice and noted Pope Francis was sending a clear message "in the midst of our nation's reckoning in systemic racism, as millions assert that Black Lives Matter," said Johnny Zokovitch, executive director of Pax Christi USA, a national Catholic peace and justice organization based in Washington, D.C.
"It's validation of the archbishop's opposition this past summer of President Trump using the Saint John Paul II Shrine for a photo op when the president's policies are so radically contrary to our faith and the teachings of the church," Mr. Zokovitch said in a statement.
The move also was praised by the head of the nation's largest Catholic community, Archbishop Jose Gomez of Los Angeles, who is president of the U.S. Conference of Catholic Bishops, a position once held by Archbishop Gregory.
"Pope Francis is sending a powerful message of hope and inclusion to the Church in the United States. The naming of the first African-American cardinal from the United States gives us an opportunity to pause and offer thanks for the many gifts African-American Catholics have given the church," Archbishop Gomez said.
Archbishop Gregory helped shape the church's "zero tolerance" response to the sexual abuse scandal while serving as president of the U.S. Conference of Catholic Bishops from 2001 to 2004.
The church's efforts since 2004 have helped achieve a sharp reduction in child-sex abuse cases. But some abuse continues to occur, and the church's procedures for addressing abuse continue to incur criticism from those who feel there's a lack of consistency and transparency.
An outspoken civil rights advocate, Archbishop Gregory has addressed the death of George Floyd.
In June, he blasted President Trump's visit to a Washington shrine honoring Pope John Paul II, a day after police and armed soldiers used tear gas and rubber bullets to clear protesters so President Trump could be photographed in front of a historic Washington church holding up a Bible.
"I find it baffling and reprehensible that any Catholic facility would allow itself to be so egregiously misused and manipulated in a fashion that violates our religious principles, which call us to defend the rights of all people, even those with whom we might disagree," Archbishop Gregory said in a statement before President Trump and First Lady Melania Trump arrived at the Saint John Paul II National Shrine.
During a June dialogue hosted by Georgetown University, he talked frankly about his own response to Mr. Floyd's killing and emphasized the value of church involvement in pressing social issues.
"The church lives in society. The church does not live behind the four doors of the structures where we worship," he said at the time.
The Washington archdiocese has created an anti-racism initiative under Archbishop Gregory's leadership, offering focused prayer and listening sessions.
In addition to his work combating racial injustice and sexual abuse in the church, the archbishop has drawn notice for his more inclusive treatment of LGBTQ Catholics. In 2014, while serving in Atlanta, he wrote a positive column about his conversations with a group of Catholic parents of LGBTQ children.
Francis DeBernardo, executive director of New Ways Ministry, which represents LGBTQ Catholics, said his group is "very excited" to see Archbishop Gregory's elevation and connected it back to Pope Francis' recently reported comments supporting civil unions for same-sex couples.
Archbishop Gregory's elevation, while trailblazing for Black Americans in the church, also follows a pattern of D.C.-area archbishops getting named to the rank of cardinal. Five of the six prelates who previously held Archbishop Gregory's position were later named cardinals.
The archdiocese, though, has become embroiled in the abuse crisis since its previous two leaders — Donald Wuerl and Theodore McCarrick — were implicated in the church sex scandal.
In February 2019, Pope Francis defrocked former Archbishop McCarrick after a Vatican-backed investigation concluded he sexually abused minors and adults over his long career. It was the first time a cardinal had been dismissed from the priesthood for abuse.
Pope Francis reluctantly accepted former Archbishop Wuerl's resignation in October 2018 after he lost the trust of his priests and parishioners in the months following the release of the Pennsylvania grand jury report. The report accused Archbishop Wuerl of helping to protect some child-molesting priests while he was bishop of Pittsburgh from 1988 to 2006. Other newly named cardinals include an Italian who is the long-time papal preacher at the Vatican, the Rev. Raniero Cantalamessa, a Franciscan friar; the Kigali, Rwanda, Archbishop Antoine Kambanda; the Capiz, Philippines, Archbishop Jose Feurte Advincula; and the Santiago, Chile, Archbishop
Celestino Aos Braco. Another Franciscan who was tapped is Friar Mauro Gambetti, in charge of the Sacred Convent in Assisi. The pope, when elected in 2013, chose St. Francis of Assisi as his namesake saint. Earlier this month, the pontiff journeyed to that hill town in Umbria to sign an encyclical, or important church teaching document, about brotherhood.
In a reflection of the pope's stress on helping those in need, Pope Francis also named the former director of the Rome Catholic charity Caritas, the Rev. Enrico Feroci, to be a cardinal.
Nine of the new cardinals are younger than 80, and thus eligible to elect the next pontiff in a secret conclave.