Mayor Stoney officially kicks off re-election campaign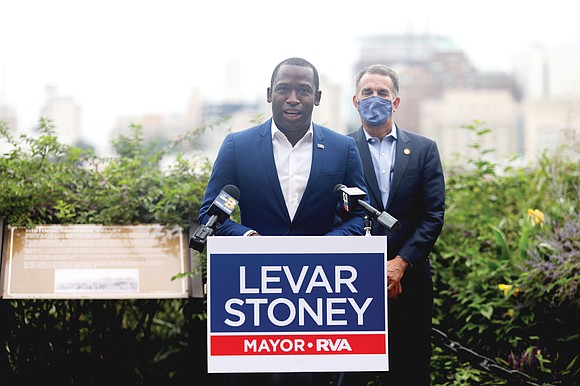 Mayor Levar M. Stoney officially launched his bid for a second four-year term with a show of support from the state's top elected Democrat, Gov. Ralph S. Northam.
The mayor, who faces five opponents, urged people to stick with an experienced leader on Tuesday as he opened his re-election campaign with a news conference held at the city overlook on East Grace Street in Church Hill accompanied by the governor.
The governor also joined Mayor Stoney later at a virtual rally for supporters at which Henrico Delegate Lamont Bagby, chairman of the Virginia Legislative Black Caucus, issued an endorsement.
Separately, Richmond Delegate Delores L. McQuinn said she is endorsing Mayor Stoney as well.
"Levar has been a leader," Gov. Northam said in announcing his support. "He's listened, and he's taken action. He's taken Richmond to the next level. I plan to vote for him on Nov. 3rd. I encourage everyone else in the city of Richmond to do so."
Delegate Bagby, who lives outside the city and cannot vote for the mayor, praised Mayor Stoney as "the most experienced candidate in the race" and for building a "strong track record of helping communities in Richmond and Virginia that have been neglected."
An early poll the Free Press reported on in July suggested that Mayor Stoney holds a narrow lead, but has not expanded his base of city voters since winning election in 2016.
The poll indicated he has the support of around 36 percent of city voters and, like the contest four years ago, is benefiting from having multiple opponents who each have a smaller share of support. The poll suggested that Mayor Stoney is leading in four City Council districts; he would need to win five districts to secure a second term.
His opponents in the November election include 2nd District City Councilwoman Kim B. Gray, who is completing her first term, and four people who would be newcomers to City Hall — Michael J. Gilbert, M. Justin Griffin, Tracey V. McLean and Alexsis Rodgers.
Mayor Stoney took a big hit early this year with his ardent support of the failed and unpopular Navy Hill project that called for a private investment of $1.5 billion on city property in Downtown, with the city financing a new and larger arena to replace the Richmond Coliseum.
He also has faced criticism in dealing with the coronavirus as well as his handling of the police brutality-racial justice protests since late May that have pushed police reforms but also caused damage to numerous businesses around the city and Downtown.
"The next decade will be the most critical in our city's history, and the next mayor will need to act quickly and decisively to ensure we do not miss our moment here in Richmond," Mayor Stoney declared in kicking off his campaign.
"To tackle these challenges facing our city, we need a leader who has the experience and partnerships to get the job done. I am the only candidate in this race who can accomplish that mission."
He cited successes he said he has achieved during his first term, including fulfilling his campaign promise to expand after- school programs to every middle and elementary school student, building three new schools and creating an eviction diversion program that has helped 140 families stay in their homes. He did not include his successful removal of 11 of the 12 city-owned Confederate statues.
The mayor pledged during a second term, he would call for universal access to pre-kindergarten, and seek to increase Black and Latino home ownership.
Mayor Stoney also committed to redoubling his efforts to protect public health during the COVID-19 pandemic, while also continuing the work of reforming and re-imagining public safety and policing.
Strikingly, he did not mention any reforms within City Hall, including any effort to upgrade the permit section to simplify the process for builders, developers and business owners.
He also did not mention beefing up funding for affordable housing in the city, although on Monday night, he indicated his support for increasing a city fund to aid such development to $10 million a year.
At this point, Mayor Stoney has raised more money than his five opponents combined.