Richmond Crusade for Voters endorses diverse slate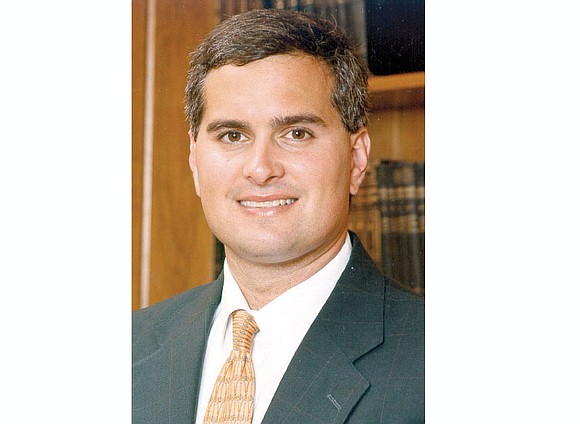 By Jeremy M. Lazarus
The Richmond Crusade for Voters this week, as expected, endorsed the statewide Democratic ticket of Lt. Gov. Ralph Northam for governor, Justin Fairfax for lieutenant governor and Mark Herring for re-election to attorney general.
But the city's oldest and largest African-American political group also voted Monday to support the re-election of six-term Republican Delegate G. Manoli Loupassi over his Democratic challenger Dawn Adams in the 69th District.
After marking its 61st year at a Saturday banquet, the Crusade threw its support to Delegate Loupassi for going all out to encourage passage of an advisory referendum on city school modernization that the Crusade helped put on the Richmond ballot, countering Dr. Adams, who is opposed to the referendum.
Delegate Loupassi has called fixing Richmond's schools "a moral issue" and is using his campaign to urge public support for the referendum that seeks to change the City Charter to require Mayor Levar M. Stoney to come up with a fully funded plan to modernize the city's worn-out school buildings.
He is the only member of the city's General Assembly delegation to publicly endorse the referendum, and he has promised to push for passage of the measure in the next legislative session if voters approve it in the November election.
The Crusade also endorsed five-term Democratic Delegate Betsy B. Carr, who is being challenged by Montigue Magruder, a Green Party member, in the 69th House District, the only other competitive race for House seats representing Richmond.
In local races, the Crusade endorsed the Democratic nominee for sheriff, Antionette Irving, who also picked up the endorsement of Gov. Terry McAuliffe, over two independent challengers, Nicole Jackson, a former major in the city Sheriff's Office, and businessman Emmett J. Jafari.
The Crusade also voted to back the Democratic nominee for city treasurer, Nichole Richardson Armstead, daughter of former City Councilman Henry "Chuck" Richardson, who is facing a challenge from two former members of City Council, Michelle Mosby and L. Shirley Harvey.
In the 3rd District School Board race, the Crusade endorsed 30-year Richmond educator Joann Henry over appointed incumbent School Board member Cindy Menz-Erb and PTA member Kenya Gibson.
The Crusade broke with Mayor Stoney, who announced his support for Ms. Menz-Erb. Meanwhile, Ms. Gibson picked up the endorsement of City Councilwoman Kim Gray.
Dr. Henry received the endorsement of former Virginia Democratic Party Chairman Paul Goldman, who has led the push for the school modernization referendum with the Crusade.