Marsh Elementary School dedication this Saturday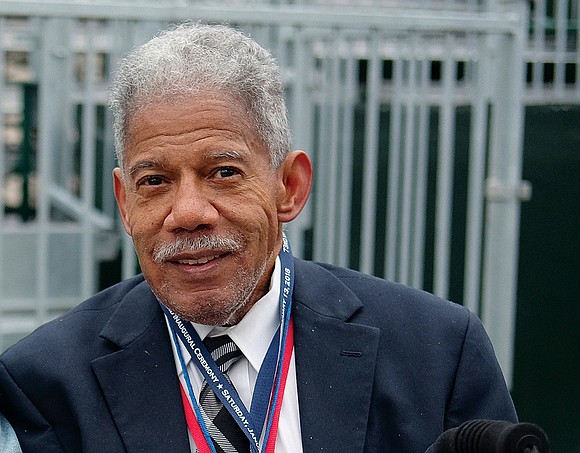 This Saturday, Aug. 28, will be a banner day for former state Sen. Henry L. Marsh III and the new elementary school in Church Hill named in his honor that will be officially dedicated.
The 10 a.m. ceremony at the school, built in the 800 block of North 28th Street in Church Hill adjacent to where George Mason Elementary used to stand, will celebrate the accomplishments of Mr. Marsh who also served as Richmond's first African-American mayor.
"I am excited and very proud and I am grateful to have the opportunity to have my name associated with the school," Mr. Marsh, now 87, said in an interview this week. "This is a very humbling experience."
The ceremony, which is by invitation only because of COVID-19, will take place in the lobby of the school where items in a showcase will trace his life of dedicated service to Richmond, civil rights and the improvement of the lives of people across the Commonwealth.
Richmond School Board Chairwoman Cheryl L. Burke, in whose 7th District the new school is located, has been beyond elated since the decision was made in February 2020 to name the building after the longtime civil rights attorney.
Mr. Marsh said two generations of his family attended George Mason Ele- mentary, which Marsh Elementary now replaces. He went there as a youngster and so did his children. The Marsh family lives near the school.
Mr. Marsh said that he has always looked for an opportunity to serve. He won election to Richmond City Council in 1966 and was chosen as vice mayor in 1970. He became Richmond's first Black mayor in 1977, when he was selected by his fellow council members to serve in that role following an election in which African-Americans had won a majority of the nine City Council seats for the first time in history.
He lost his mayor's seat in 1982, but remained on City Council until 1991, when he won election to the state Senate. He resigned from his Senate seat in 2014 to accept a gubernatorial appointment to the Virginia Alcoholic Beverage Control Commission. He has since retired.
A 1952 graduate of Maggie L. Walker High School, Mr. Marsh served as vice president of his senior class, editor of the school newspaper and president of the student NAACP chapter.
He said he hopes that students attending Marsh Elementary will find inspiration in the new school once classes start Sept. 8 for in-person learning after being shut down since March 2020 because of the pandemic. He said he hopes the adjustment will be easy, particularly for younger children who may be going to school for the first time.
"One of the reasons for renaming a school, historically, is to inspire students to aspire to take on leadership roles and make a better community," Mr. Marsh said.
He said education was always a major focus for his family going back to his grandparents. He said he was a "typical student" when he was in Richmond Public Schools. He said RPS has always been able to provide students with a well-rounded education.
"I was very interested in extracurricular activities," he recalled. "My teachers encouraged me. They told me to focus on the academics, which I did. I also focused on being a leader."