Henry L. Marsh III Elementary School: A building worthy of kings and queens
Jeremy M. Lazarus and Ronald E. Carrington | 9/2/2021, 6 p.m.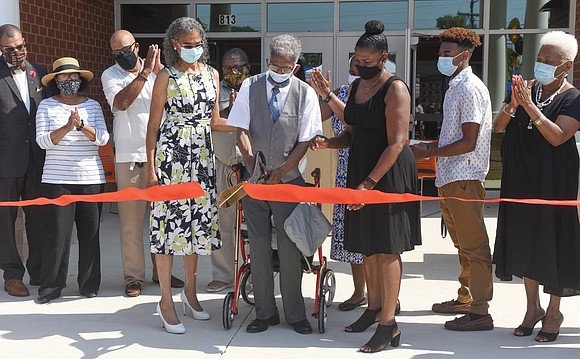 Henry L. Marsh III grew up across the street from the handsome new elementary school in Church Hill that is named in his honor.
Saturday, the man who rose to become Richmond's first Black mayor, fight for civil rights in courtrooms across Virginia and serve in the state Senate for two decades was on hand to cut the ribbon to formally open the $42 million building that will educate potential future leaders beginning next Wednesday, Sept. 8.
Now 87, Mr. Marsh did not speak at Saturday's ceremony, but his daughter, former School Board member Nadine Marsh-Carter, noted in her remarks that her father came from humble beginnings as the son of a waiter and that this new school building can teach students that "humble beginnings" are no barrier to future success.
Speaking to the gathering of about 45 people and those watching via a Facebook broadcast of the ceremony, Principal Kimberly Cook said she hoped Mr. Marsh's story will serve to inspire those who attend to prepare to do great things.
"Naming the school after (Mr. Marsh) gives our students something to strive for," she said.
The school, one of three new buildings opening this academic year, including Cardinal Elementary and River City Middle School, is part of a $147 million investment that the city and its residents have made in new buildings in the past three years through payment of an increased tax on restaurant meals and prepared foods.
The Henry L. Marsh III Elementary School will offer a big change for students, teachers and everyone else involved, Richmond schools Superintendent Jason Kamras noted.
"Anyone who was at the old George Mason knows it was quite frankly just a travesty to have kids going to school there," he said, noting that the new building will offer spacious accommodations for each grade, has been designed to take advantage of natural light and includes a large space to serve as a combination cafeteria, gym and auditorium.
Located at 813 N. 28th St., Marsh Elementary replaces a worn-out George Mason Elementary School building that Mr. Marsh attended nearly 80 years ago. The former building dated to 1887 and was expanded through the years. It had been on the list for replacement for at least 15 years before work began. Development of new athletic facilities on the grounds is still a work in progress.
The old building was named for George Mason, a slave owner ironically best known for authoring the Virginia Declaration of Rights, which became the basis for the federal Bill of Rights that protects many of the freedoms people take for granted.
Mr. Kamras said the new name sends an important message that Richmond Public Schools "is becoming an even more inclusive, equitable and just school system."
School Board Chairwoman Cheryl Burke, 7th District, who also cheered the opening of the school and the adoption of a new nickname, the Monarchs to replace the Dragons, acknowledged that the failure to name the school for both Mr. Marsh and his late wife, Dr. Diane Harris Marsh, a pioneering dentist who made a major impact on community health care, was an oversight that should be addressed in some way in the school.
Along with speeches, the ceremony featured a musical performance from Richmond saxophone artist J. Plunky Branch.
Among those present Saturday were 3rd District Congressman Robert C. "Bobby" Scott, who served with Mr. Marsh in the state Senate; state Sen. Ghazala Hashmi; Delegates Delores L. McQuinn and Betsy Carr; Mayor Levar M. Stoney; and two members of City Council, President Cynthia I. Newbille and Vice President Ellen F. Robertson. Several former School Board and elected city officials also were on hand.
The audience was mostly composed of family and friends. Parents and students were encouraged to watch online rather than attending to avoid any potential for Mr. Marsh, who is in less than stellar health, to be inadvertently impacted by the coronavirus.
Ms. Marsh-Carter, a lawyer and president of a children's adoption society, observed that most in attendance "have known my dad for years as a civil rights attorney... community servant, avid golfer and trash talking bid whist player. To me, he is a man who grew up in poverty, believed in hard work and principles. A true community servant. An advocate for public education. Most of all, a man who did not make amassing a lot of material things a priority."
Like her father, Ms. Marsh-Carter and her two siblings, Sonya Kraft, who is now Mr. Marsh's caretaker, and brother Dwayne Marsh, also attended George Mason. She said she hopes the new building gives students the educational foundation that will build their success just as school did for her father.
In her remarks, Ms. Burke said the new nickname means "that kings and queens will be attending this building" and that the space they will enter reflects the view that "our children are worthy of the very best."