Black officer hailed as hero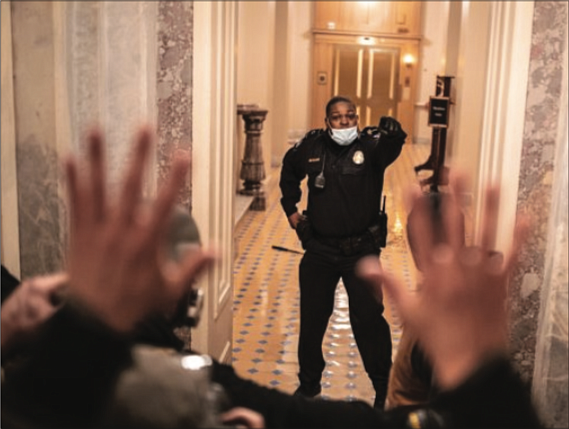 A Black U.S. Capitol Police officer is being hailed a hero for steering an angry mob away from the U.S. Senate chambers in last week's deadly storming of the U.S. Capitol by supporters of the president.
Officer Eugene Goodman can be seen on video getting rioters to chase him up several interior stairways, leading the mob away from an open doorway near the Senate chambers. The move put his life in danger as it gave security enough time to lock down the chamber.
An analysis of the events by The Washington Post showed Officer Goodman was able to hold back the mob for almost a minute.
In the confrontation, Officer Goodman puts himself between a man wearing a black T-shirt for the QAnon conspiracy movement and a hallway leading to the Senate chambers. He then shoves the person to induce him and the crowd to chase Officer Goodman toward officers in the opposite direction.
"As Trump's fascist mob ransacked the US Capitol, this brave USCP officer kept murderous rioters away from the Senate chamber and saved the lives of those inside. God bless him for his courage," Congressman Bill Pascrell of New Jersey wrote in a Twitter message Sunday.
The man chasing Officer Goodman has been identified as Doug Jensen, 41, of Des Moines, Iowa, according to several media outlets. He is now facing five federal charges, including trespassing and disorderly conduct counts, according to news releases from the FBI's field office in Omaha, Neb., and the sheriff's office in Polk County, Iowa.
Several members of Congress with military experience, including Rep. Ruben Gallego of Arizona and Rep. Jason Crow of Colorado, also have been praised for calming frightened colleagues and helping with the evacuation during the chaos.
The chief of the Capitol Police resigned following the attack and Assistant Chief Yogananda Pittman was designated as acting chief on Jan. 8. She is the first woman and first African-American to lead the force.
A federal prosecutor said he would charge any Capitol Police member found to be complicit in the insurrection.