Jersey of Willie O'Ree, hockey's Jackie Robinson, to be retired by Boston Bruins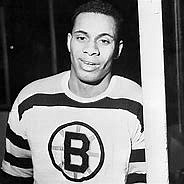 No one will ever wear No. 22 again for the Boston Bruins.
That's the jersey number Willie O'Ree wore for Boston when he broke the color barrier in the National Hockey League in 1958.
O'Ree was the first Black man to play in an NHL game and has long been regarded as "The Jackie Robinson of Hockey."
O'Ree, now 85, will see his retired No. 22 raised to the rafters on Feb. 18 at Boston's TD Garden.
He will become the 12th Bruin to be so honored.
Also this year, NHL players will wear helmet decals with O'Ree's likeness and the words "Celebrating Equality."
A native of New Brunswick, Canada, O'Ree played pro- fessional hockey from 1957 until 1979, mostly in the minor leagues.
He played a handful of games with Boston in 1958 and came back in 1961 to play 40 games, scoring four goals and passing for 10 assists.
In 2018, O'Ree was named to the Hockey Hall of Fame in the "Builders Category." He also carries the title of NHL Diversity Ambassador.
O'Ree played most of his career with a secret—he was blind in one eye, the result of being struck by an errant puck in 1957.
He kept it quiet, feeling the news would hamper his chances of playing on hockey's highest level and providing for his family.
There was no other Black player in the NHL until 1974. Currently, about 26 players in the NHL are Black, including 20 from Canada and six African-Americans.