Will Chiefs QB Patrick Mahomes be ready to play in AFC final?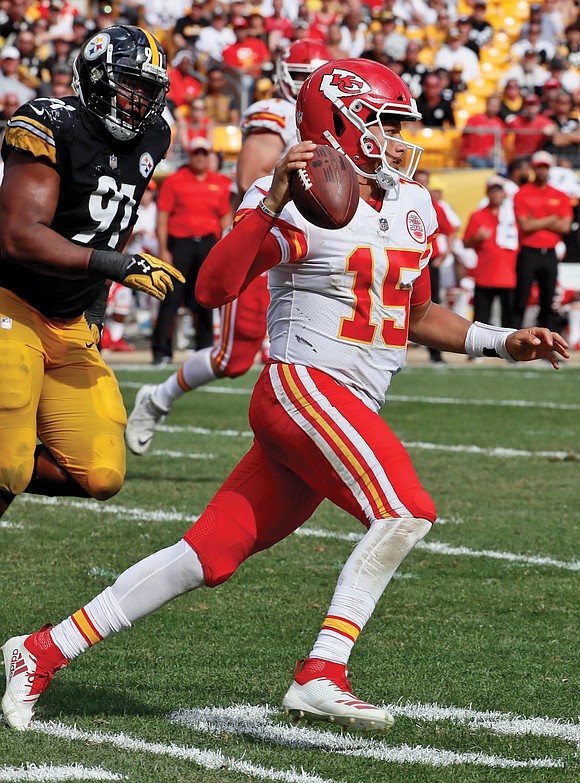 Much is known about this NFL season after hundreds of games and five grueling months of popping pads.
But it is the unknown that's likely to spark the most conversation leading into the conference championships this Sunday, Jan. 24.
Will the Kansas City Chiefs' Patrick Mahomes play or not is the leading question after the brilliant quarterback suffered a concussion in last Sunday's game against the Cleveland Browns.
Mahomes, arguably the brightest star in the game, struck his helmeted head violently on the turf while being tackled and was wobbly after regaining his feet. It was a scary sight.
He has officially been placed in NFL concussion protocol. And to be cleared to play in Sunday's AFC championship game against the Buffalo Bills, Mahomes must pass tests ad- ministered by two neurologists — one assigned from Kansas City's staff and a second independently approved by the NFL front office.
His status remains a "maybe" for playing with the defending Super Bowl champs.
Complicating matters, Mahomes had been limping throughout much of the game from a previous leg or foot injury.
If Mahomes is ruled out, veteran Chad Henne, who came on heroically in relief against the Browns, will get the call.
The quarterback match-up for Sunday's other Super Bowl "semifinal" — "The Battle of the Bays" — pits two future hall of famers, Tom Brady for the Tampa Bay Buccaneers and Aaron Rodgers for the Green Bay Packers.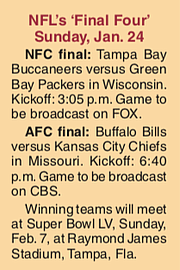 The Wisconsin weather forecast calls for temperatures in the 20s with a chance of snow.
Here's a look at the four teams playing for the AFC and NFC championships:
•
Buffalo Bills
Record: 15-3
How they got here: Won AFC East and defeated the Indianapolis Colts and Baltimore Ravens in playoffs
Founded: 1960 as part of the American Football League
Head coach: Sean McDermott (fourth year, 38-26)
Quarterback: Josh Allen; in his fourth season out of the University of Wyoming
Super Bowl titles: None, but lost in the Super Bowl in 1990, 1991, 1992 and 1993
Retired numbers: Jim Kelly (12), Thurman Thomas (34) and Bruce Smith (78)
•
Kansas City Chiefs
Record: 15-2
How they got here: Won AFC West and defeated the Cleveland Browns in the playoffs
Founded: 1960 as part of the American Football League
Head coach: Andy Reid (91- 37; with Chiefs since 2013)
Quarterback: Patrick Mahomes, in his fourth season out of Texas Tech; or Chad Henne, in his 13th season out of University of Michigan
Super Bowl titles: Two, 1969 and 2019
Retired numbers: Richmonder Willie Lanier's No. 63 is among 10 Chiefs to be so honored.
•
Green Bay Packers
Record: 14-3
How they got here: Won NFC North and defeated the Los Angeles Rams in the playoffs
Founded: 1919
Head coach: Matt LaFleur (26-6 in two seasons)
Quarterback: Aaron Rod- gers; in 16th season out of Uni- versity of California, Berkeley
Super Bowl titles: Four, 1966, 1967, 1996 and 2010
Retired numbers: Tony Canadeo (3), Brett Favre (4), Don Hutson (14), Bart Starr (15), Ray Nitschke (66) and Reggie White (92).
•
Tampa Bay Buccaneers
Record: 13-5
How they got here: Made the playoffs as a wildcard and then defeated the Washington NFL team and the New Orleans Saints
Founded: 1974 as an ex- pansion team; first season of competition, 1976
Head coach: Bruce Arians (18-14; in his second season)
Quarterback: Tom Brady; in 21st season out of the Uni- versity of Michigan
Super Bowl titles: One in 2002
Retired numbers: Derrick Brooks (55), Lee Roy Selmon (63) and Warren Sapp (99)