Algenon L. Brown, longtime educator and member of the Capital Region Airport Commission, dies at 95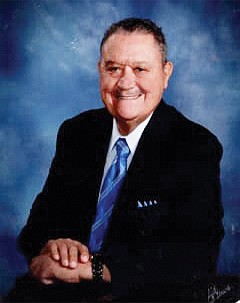 Algenon L. Brown, a career educator in Richmond for 36 years who also fought for Black business inclusion in the operation and development of the Richmond International Airport, has died.
Mr. Brown succumbed on Friday, Jan. 8, 2021, his family said. He was 95.
Family and friends celebrated his life at a funeral on Tuesday, Jan. 19, at Scott's Funeral Home Chapel in North Side.
In recent years, Mr. Brown was best known for 26 years of service on the Capital Region Airport Commission, the board that owns and operates Richmond International Airport.
An even-tempered man who rarely was known to raise his voice or speak in a disrespectful tone to anyone, Mr. Brown steadily pushed for change in the way the airport did business.
He served several terms as chairman and vice chairman of the commission, and won support for policies requiring the airport in its procurement to ensure that contractors building the parking garages and other now familiar elements of the airport included Black firms.
With strong backing from the Free Press and its now deceased founder and publisher, Raymond H. Boone Sr., Mr. Brown also won support from the commission to ensure that Black entrepreneurs had an opportunity to compete for franchises selling goods and services at the airport.
A Navy veteran who served during World War II, Mr. Brown went on to graduate from Virginia Union University and later earned a master's degree from Virginia State University.
He worked as an educator with a focus on science and math and served in a variety of roles with Richmond Public Schools. He retired in 1993 as principal of Elkhardt Middle School. He also was a former member of the School Board.
Mr. Brown was a member of Phi Beta Sigma Fraternity and the Astoria Beneficial Club and that organization's C.F. Foster Scholarship Foundation. He also belonged to the Theban Beneficial Club and Club 533.
He also was a longtime member of Fourth Baptist Church, where he served as a deacon for more than 50 years. He served as assistant superintendent of the Adult Sunday School, was a former chair and member of the Trustee Board and served on the church's Scholarship Committee.
He was predeceased by his wife of 60 years, Helen H. Brown.
Survivors include his children, Judge Kevin L. Brown and Dr. Kelly Lemons Carter; four grandchildren; and three great-grandchildren.