Concerns raised over lack of diversity among regional grand jury members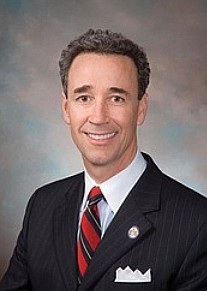 A regional grand jury vested with sweeping powers to investigate and issue indictments appears to have been exempted from the push to ensure racial equity in criminal justice.
Instead of diversity, Richmond state Sen. Joseph D. "Joe" Morrissey said that he has been advised this grand jury is a majority-white club of elderly people, a substantial number of whom have served for years.
He said reforms to alter that picture could be in order for the Richmond multi-jurisdictional grand jury, and similar bodies across the state, whose membership has been controlled by prosecutors and judges for decades.
The General Assembly authorized such regional grand juries in the early 1980s to speed the indictment process in serious felony cases involving drug dealing and other major crimes. Richmond's regional grand jury considers criminal indictments involving cases from the city and three counties, Chesterfield, Hanover and Henrico, though the city relies on it the most.
Sen. Morrissey said his concern about the grand jury's composition and tenure was aroused by information he received that offered a glimpse into an operation that, by law, is shrouded in secrecy.
He said he was told that only three members of the regional grand jury are Black and that there are no Asians or Latinos or representatives of other relevant community groups. He said he was told that virtually all of the members range in age from their 70s to early 90s.
"I'm concerned about the lack of diversity and about the lack of turnover," said Sen. Morrissey, who serves on the Senate Judiciary Committee, which deals with issues related to courts and criminal justice.
He said the grand jury, which is the last checkpoint before a case can head to the circuit court, needs to have a membership that better reflects the community.
Sen. Morrissey, a former Richmond prosecutor whose license to practice law in Virginia was revoked in 2018, said that having regulars on a grand jury can distort the process. He said people who serve for years are prone to become too cozy with the grand jury's special counsel and the police officers who offer the bulk of testimony in support of an indictment.
He said he was told that the longest serving members of the regional grand jury become testy if a new person seeks to raise questions about the facts and testimony presented.
A Free Press review of court records found that three of the current members of the regional grand jury have served for at least 10 years, while another has served for seven years.
Richmond Circuit Court Judge Beverly W. Snukals has been the regional grand jury's presiding judge during a major portion of her 19-year tenure on the court and has issued the jurors' reappointments every six months. She declined to comment on the grand jury or the appointments.
Based on state law, Judge Snukals makes the appointments based on recommendations from judges in Richmond and from the three other jurisdictions to ensure each locality is represented and from the grand jury's special counsel, David Stock, an assistant commonwealth's attorney in Henrico County who has held the post for nine years.
According to state law, members of the regional grand jury are to be drawn from the pool of area residents who are called to serve on regular grand juries in each of the four jurisdictions. However, nothing precludes Judge Snukals from reappointing the same people.
No central database is maintained to provide racial or gender information on those appointed to serve on any grand jury in Richmond or elsewhere.
Sen. Morrissey said he is considering introducing legislation that would prevent routine reappointments and require people from different backgrounds and various age groups.
How much impact such reforms would have is uncertain.
Created to speed up the indictment process in serious criminal cases, the regional grand jury, like most grand juries, tends to issue indictments.
According to legal experts and state law, that is because grand juries in Virginia only hear the prosecution's side of the case and because the standard for an indictment is low. The grand jury does not decide guilt or innocence.
Instead, Virginia law states that the grand jury only must find there is "probable cause" that the person under consideration for indictment was involved in alleged wrongdoing and should be face a trial. That standard is far short of the "beyond a reasonable doubt" that is required to convict.
The grand jury also is not required to be unanimous. Only a majority of members must agree that there is "probable cause," according to state law.
Still, it might preclude the appointment of people who fall asleep during testimony, as the Free Press was told is not uncommon in the Richmond regional grand jury.
Mr. Stock did not respond to a request for comment about whether grand jurors nod off during hearings.
Henrico County Commonwealth's Attorney Shannon L. Taylor, who is Mr. Stock's boss, said that although she does not personally attend the grand jury's sessions, "I have not heard any concerns about how Mr. Stock has handled and continues to handle the multi-jurisdictional grand jury from any of the other jurisdictions."