Trayvon Bromell running for 'World's Fastest Human' crown, gold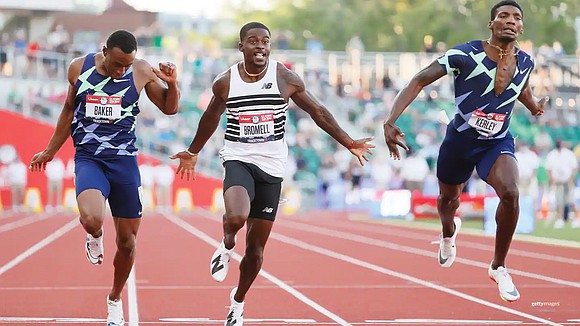 Trayvon Bromell's first trip to the Olympics ended with no medals, a painful injury and a ride out of the stadium in a wheelchair.
His prospects for the Summer Games in Tokyo, however, are considerably brighter.
The 26-year-old former Baylor University All-American is in the top of the conversation for "World's Fastest Human."
Thus far in 2021, Bromell has posted the two fastest 100-meter clockings—9.77 seconds and 9.80 seconds—on the globe.
This is his second Olympics. Competing at the 2016 games in Rio de Janeiro, Bromell suffered a heel injury in the 4x100 relay and tumbled to the track at the finish line. He later underwent surgery on his foot to remove bone spurs and had two additional surgeries for Achilles' heel injuries.
After a rough patch involving lengthy re-habs and precious training time, the 5-foot-8, 156-pound native of Florida has shifted back into top gear. Endorsed by New Balance, Bromell won the Olympic trials last month in Eugene, Ore., in 9.80. Earlier this summer, he ran a 9.77 in a meet in Miramar, Fla.
Bromell will be joined in Tokyo by U.S. teammates Ronnie Baker and Fred Kerley, who finished second and third in the U.S. Olympic trials.
Other contenders for "World's fastest" honors in Tokyo include South African Akani Simbine, Nigerian Divine Oduduru, Canada's Andre De Grasse, Zharnell Hughes of Great Britain and Jamaican trials champ Tyquendo Tracey.
Among those not sprinting in Tokyo is American Christian Coleman, who was suspended for drug violations. Coleman had been an Olympic favorite at one time.
Also not running in the 100 are Americans Justin Gatlin and native Virginian Noah Lyles, who finished seventh and eighth at the trials.
Gatlin was the 2004 Olympic 100-meter champ and the last man to claim the "World's Fastest Human" title since Jamaica's Usain Bolt dominated the 2008, 2012 and 2016 games. Bolt set an Olympic mark of 9.63 in 2012.
In 2016, Bromell finished a disappointing eighth in the 100 meters and then things got worse on the relay. Due to a baton exchange violation, the Americans were disqualified. Bromell finished his anchor leg and tumbled to the track in agony.
Since returning, he is undefeated in both 2020 and 2021, with 14 straight victories over that distance.
Bromell wants to forget 2016 and complete the feel-good story of "From Wheelchair to World's Fastest."
---
In Olympic history dating to 1896, American men have won the gold in the 100 meters 16 times, while taking 14 silver and nine bronze medals.
The most recent U.S. winners were Gatlin in 2004, Maurice Greene in 2000, Carl Lewis in 1984 and 1988, Jim Hines in 1968 and Bob Hayes in 1964.
---
With American Sha'Carri Richardson out of contention, the favorites to win the women's 100-meter crown are both Jamaican – 2016 Olympic champion Elaine Thompson-Herah and 2008 and 2012 winner Shelly-Ann Fraser-Pryce, the 5-foot "Pocket Rocket."
Fraser-Pryce, now 34, has the world's fastest time this year, 10.67. Thompson-Herah has run 10.71.
Richardson won the U.S. trials with a time of 10.86, but was later disqualified for a drug violation.
Representing the United States women in Tokyo will be Javianne Oliver, Teahna Daniels and Jenna Prandini, who finished second, third and fourth, respectively, at the trials.
The last American woman to win Olympic gold in the 100 was Gail Devers in 1992 and 1996.
American Florence Griffith Joyner, or "FloJo" as she was called, set the Olympic record of 10.62 in 1988 in Seoul.