Former City Councilman Chuck Richardson tells all in new book, 'Cease Fire! Cease Fire!'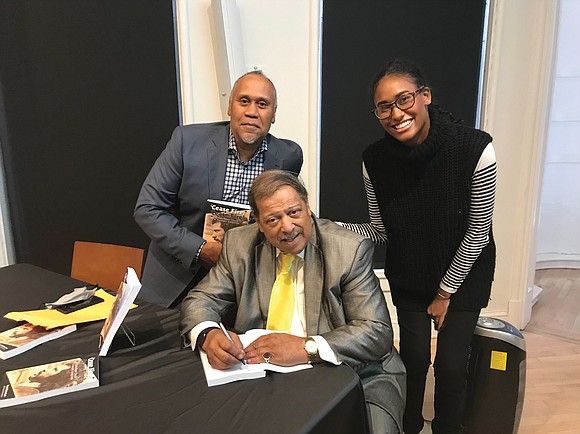 He was the man called Chuck when he served on Richmond City Council.
And though it has been 26 years since Henry W. "Chuck" Richardson represented the 5th District, memories of the irrepressible politician who staunchly advocated for Black interests still resonate in Richmond.
At 73, Mr. Richardson is now telling the good, the bad and the ugly of his life and political career in a new memoir he wrote with the help of his brother, Monte Richardson.
In the self-published "Cease Fire! Cease Fire!" Mr. Richardson opens up about his service in Vietnam, where he became addicted to heroin. The drug addiction would end up costing him his seat on City Council and put him in prison for several years.
In this tell-all book, he writes about his public service as well as his furtive drug buying and his extramarital affairs.
Mr. Richardson talked about his book and offered his views on current affairs during an event and book-signing last Saturday at the Black History Museum & Cultural Center of Virginia, where his daughter, City Treasurer Nichole Richardson Armstead, led the discussion.
Mr. Richardson recalled how, as a child, he idolized Zorro, the TV character who fought the oppression of poor and downtrodden people, and in his political career, he said he sought to embody that ethic.
He credits the Richmond Regional Planning District Commission with helping him to learn about issues and the area's politics. He landed a job with the commission after returning from his service to Vietnam.
He was elected to City Council in 1977 as part of the first Black council majority in Richmond history, with noted civil rights attorney Henry L. Marsh III becoming the city's first Black mayor.
Mr. Richardson joined the majority in opening up opportunities at City Hall for Black employment that had long been
restricted. He also successfully pushed through legislation that required at least 30 percent of every significant city construction contract to be awarded to Black-owned businesses until the U.S. Supreme Court took up a challenge and deemed that requirement unconstitutional.
He had brushes with the law due to his drug habit, including in the late 1980s when he essentially was forced to go into drug rehab as part of a plea deal. He stayed clean for a few years, but a relapse in 1995 led to his arrest and conviction in Henrico County.
Since then, his most publicized political actions have been his effort to get a 5th District representative on City Council who moved out of the district removed from office and his own unsuccessful attempt to regain the seat.
As Mr. Richardson notes in his book, without politics, he could have been just another former Vietnam veteran with an addiction who indulged "until I killed myself."
Instead, he reflects that for all the controversy he generated, for all the defeats and victories in political battles, "maybe it was politics that saved me. Maybe one day, who knows, there might be another headline: 'Zorro Returns!' "