City Council to seek election to replace Agelasto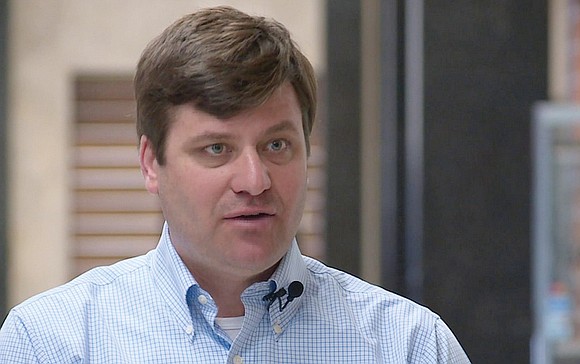 Richmond City Council set the stage this week for a special election on Nov. 5 to replace Councilman Parker C. Agelasto as the 5th District representative.
The council voted Monday to petition Richmond Circuit Court to set the election to coincide with the November general election in which voters will select representatives to the General Assembly.
Mr. Agelasto, who has been under fire for remaining on City Council after moving to the 1st District last year, announced April 23 that he would resign at the end of November.
Mr. Agelasto made the decision under a deal with Richmond Commonwealth's Attorney Michael N. Herring. Mr. Herring required Mr. Agelasto to resign if he did not want to face a court action seeking his removal from office for failing to live in the district he serves as state law requires.
One person known to be weighing a run for the 5th District seat is Thad Williamson, a University of Richmond professor who led the city's anti-poverty initiative under former Mayor Dwight C. Jones. Dr. Williamson also has served as an adviser to current Mayor Levar M. Stoney.
The action on the election came after City Council amended 2019-20 budget papers in preparation for a final vote on Monday, May 13. Among other things, the council action ensures a 3 percent pay increase for city workers beginning with the second paycheck in July.
Council also introduced legislation to provide restaurants and other collectors of meals taxes with a 3 percent rebate for collecting and remitting the tax.
Meanwhile, two former council members are continuing to pursue legal action in Richmond Circuit Court to force Mr. Agelasto to leave office before November, but are finding it a slow grind.

On Tuesday, Sa'ad El-Amin, a former 6th District council representative, said that based on new information, he would drop his request for the court to issue a preliminary injunction to immediately end Mr. Agelasto's service on City Council.
Mr. El-Amin also filed an amended case Wednesday seeking Mr. Agelasto's removal based on his alleged violation of a court order from the 1970s that ended at-large voting for council seats and his alleged violation of the U.S. Supreme Court's one-man, one-vote decision.
Mr. El-Amin said he would argue that, based on Mr. Agelasto's new residence, the 1st District now has two representatives, giving that district an advantage over other council districts when it comes to decisions, while disadvantaging the 5th District that no longer has a resident representative.
Separately, Henry W. "Chuck" Richardson, a former 5th District council representative, said Wednesday his request for the Circuit Court to issue a declaratory judgment requiring Mr. Agelasto to vacate his seat because of his move is scheduled to be heard on Friday, July 12, though he expressed disappointment that he could not get an earlier date.
Mr. Agelasto has asked in court papers that Mr. Richardson's case be dismissed. On Wednesday, Mr. Agelasto's attorney, former Virginia Attorney General Anthony Troy, urged the court to dismiss Mr. El-Amin's filing. Mr. Troy asserted that Mr. El-Amin does not meet the legal requirements to bring the action and also did not properly serve Mr. Agelasto. Mr. Troy requested that the court quash the matter.