New legal effort launched to remove Agelasto from office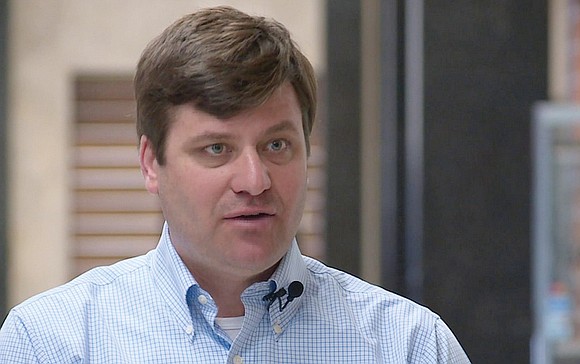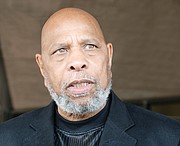 Parker C. Agelasto is facing a new legal attack seeking to remove him from his 5th District City Council seat since he moved his residence outside the district.

Just two months after former City Councilman Henry W. "Chuck" Richardson filed a lawsuit in Richmond Circuit Court seeking Mr. Agelasto's ouster, another former City Council member, Sa'ad El-Amin, is seeking a separate removal action in the same court.
Mr. El-Amin filed a request Tuesday for the court to hold a hearing under the state's obscure writ of quo warranto statute to determine if Mr. Agelasto's move means he no longer meets a key qualification to serve — notably that he be qualified to vote in the district he serves.
Mr. Agelasto has publicly acknowledged that he and his family moved last summer to a home he and his wife purchased in the 4200 block of West Franklin Street in the 1st District, and that he has rented to others his former home on Floyd Avenue in the 5th District.
The statute governing the writ allows the state attorney general, the commonwealth's attorney, a licensed attorney or any "interested party" to file for a writ "against any person who intrudes into or usurps any public office."
Under the statute, if the court accepts Mr. El-Amin's claim, it is required to notify Mr. Agelasto and quickly set a trial date to hear evidence, either with a jury or by a judge alone, and determine if he should be removed from office.
Mr. El-Amin stated Wednesday that he reluctantly filed after all other parties with authority to do so declined to take swift action against Mr. Agelasto, who, "because he is no longer domiciled in the 5th District, is no longer eligible to hold that seat."
In a statement he issued about his suit, Mr. El-Amin said, "We are in a pretty sad place here in Richmond when Mr. Agelasto has with virtual impunity arrogantly ignored the Virginia Code" requiring a local and state elected official to live in the district he or she serves and "City Council, the city attorney and the commonwealth's attorney have turned a blind eye and deaf ear to Mr. Agelasto's perfidy."
Mr. Agelasto did not respond to a request for comment.
His attorney, former Virginia Attorney General Anthony F. Troy, declined immediate comment as his client has yet to be served with court papers.
Commonwealth's Attorney Michael N. Herring confirmed that he met last month with Mr. El-Amin and had considered filing the same action after reviewing Mr. El-Amin's legal research.
Mr. Herring, though, rejected Mr. El-Amin's claim that he ignored the matter.

Instead, Mr. Herring said he made a settlement offer to Mr. Agelasto and his attorney that would avoid the mandatory trial that the writ process requires.

In an email to the Free Press, Mr. Herring spelled out the terms: "If Mr. Agelasto announces his intent to resign by year's end (rather than trying to stay on through the end of his term in 2020 as he previously announced), I will not file an action seeking a declaration that he has vacated his office. 
"I believe his announcement would allow for an orderly campaign process this fall to choose his successor," Mr. Herring stated.
"While I disagree with many of Mr. Agelasto's policy positions, I think he has and continues to represent the 5th district well. Litigation during the budget season would be distracting and disruptive. I am taking this position as an exercise of my discretion.  For what it's worth, I also appreciate and respect Mr. El-Amin's stance."
Mr. El-Amin said he was told that Mr. Agelasto had agreed to the settlement, but Mr. Herring did not confirm that. Mr. Agelasto has not made an announcement about stepping down from City Council. He also is fighting the Richardson suit, which seeks a declaratory judgment from the court that Mr. Agelasto has vacated his seat.
In that suit, Mr. Troy asked the court to dismiss the case.
Mr. El-Amin stated that he started his process in February when he asked council members to address the matter. He said he was rebuffed when City Attorney Allen L. Jackson advised City Council that the issue of a council member's residency was outside the scope of council's authority and that the members should leave it to a judge or jury to decide, if it came to that.

Mr. El-Amin stated that he halted his plans to file the writ in order to meet with the commonwealth's attorney. He said he decided to proceed after learning last Friday of Mr. Herring's decision not to file the writ.
"I felt that I had no choice but to file the challenge," he wrote.
"What concerns me more than anything else is that if nothing is done about Mr. Agelasto, this will give other politicians the green light to move out of their districts to a more favorable district. And if they are challenged, they can point out the fact that Mr. Agelasto did it," he continued.
"What is at stake here is the "one person-one vote" principle," he stated. Mr. Agelasto's move means the 1st District now has two members on City Council, while the 5th District has none, he stated.
"It is for these reasons that I cannot sit back and let this happen without something being said and done," Mr. El-Amin stated.