No details released on meeting about Councilman Agelasto
Will he or won't he?
Richmond Commonwealth's Attorney Michael N. Herring remains mum about whether he will file for a special writ in Richmond Circuit Court to remove 5th District City Councilman Parker C. Agelasto.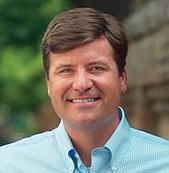 Mr. Herring declined comment on his plans after meeting Friday with former City Councilman Sa'ad El-Amin about seeking a writ of quo warranto to remove Mr. Agelasto from office because Mr. Agelasto moved last year out of the 5th District, which he was elected to represent, to a home in the city's 1st District.
As the Free Press reported last week, Mr. El-Amin called on Mr. Herring to seek the writ and warned that he would file for the writ himself if the commonwealth's attorney did not proceed.
Mr. El-Amin would not discuss what the two men spoke about, but described the meeting with Mr. Herring as productive.
"I am confident this matter is moving in a positive direction," Mr. El-Amin said.
At this point, he added, "the ball is in the commonwealth's attorney's court."