Lines form to taste Richmond ice cream queen's winning creation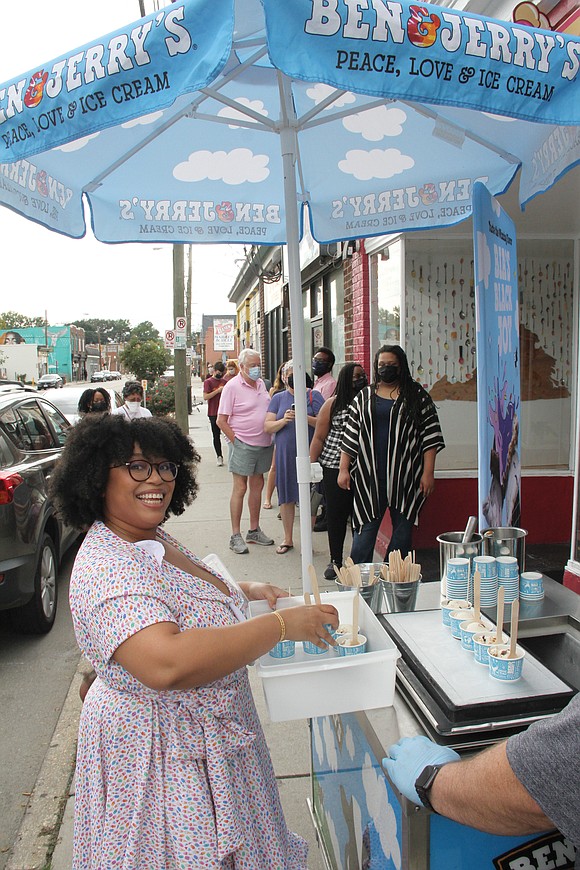 The line was long, but Richmonders had the opportunity to finally taste and enjoy the new prize-winning Ben & Jerry's ice cream flavor created by Richmond's own Rabia Kamara.
People young and old alike stood in a long line down Brookland Park Boulevard in North Side that wrapped around the block last week to sample of Ms. Kamara's "Bia's Black Joy Sundae" creation.
From 4 to 6 p.m. Oct. 7, a steady chorus of "ahhs," "wows" and "unbelievables" could be heard as people tasted the luscious, creamy, nutty mixture of salted malted Dulce de leche ice cream, vanilla ice cream, Old Bay caramel swirl, dark chocolate fudge brownie chunks and salty toffee hazelnut blondies.
In early September, the 32-year-old Ms. Kamara, now the queen of ice cream, won the nationally televised Food Network's "Ben & Jerry's: Clash of the Cones" competition and claimed a $20,000 grand prize.
Ms. Kamara, owner of Ruby Scoops Ice Cream & Sweets, beat out five other contestants from across the nation during the monthlong competition held and filmed in Waterbury, Vt., the headquarters of Ben & Jerry's ice cream.
As the winner, Ms. Kamara also was awarded the tasting event held outside her shop by a Ben & Jerry's franchise from Charlottesville. Her winning flavor, owned by Ben & Jerry's, is only available at Ben & Jerry's stores.
The crowd of eager people waiting to taste her creation was filled with family, friends, neighbors and people from across the city and Metro Richmond.
"She is fabulous. She is gifted. We are so proud of her," said Ms. Kamara's father, Lans Kamara, who came from Maryland with Ms. Kamara's mother for the event.
As she watched and heard people's reaction to the ice cream, Ms. Kamara told the Free Press, "I hope this event will bring more people to my shop. Customers will now know who we are and we will shine some more light on Richmond. We are very excited."