Richmond ice cream queen gives the scoop on Food Network competition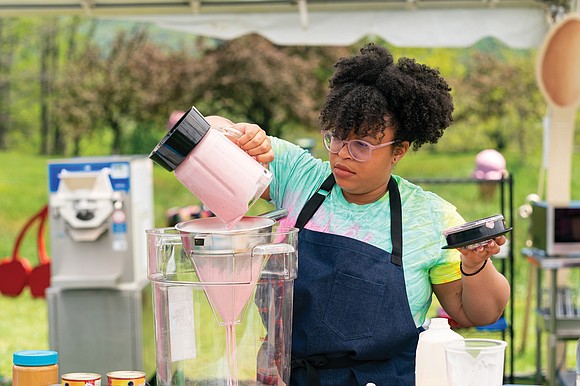 You scream. I scream. Everybody screams for Rabia Kamara, who has won the first two rounds in "Ben & Jerry's: Clash of the Cones," a competition to create a new ice cream flavor broadcast on the Food Network.
Local ice cream queen and entrepreneur Ms. Kamara, owner of Ruby Scoops on Brookland Park Boulevard on Richmond's North Side, outdid five other chunky cone filler-makers to win challenges based on the flavor profiles liked by actor Kevin Bacon and rapper Chris "Ludacris" Bridges.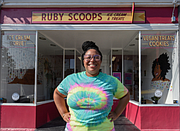 "Clash of the Cones" challenged six ice cream makers from across the country to compete for a chance to impress Ben & Jerry's ice cream co-founders Ben Cohen and Jerry Greenfield and win a grand prize of $20,000. The best flavor gets a featured spot in a Ben & Jerry's Scoop Shop or an event in the winner's hometown.
The grand prize is the exact amount Mr. Cohen and Mr. Greenfield hoped to make in their first year of business in 1978.
The competition's four challenges are being broadcast in episodes that can be viewed on the Food Network at 9 p.m. Wednesday and rebroad- cast at 1 p.m. on Thursday, or on YouTube.
Ms. Kamara's "B, Bean and Jay" ice cream, made from Mr. Bacon's favorite flavors – bananas, peanut butter, chocolate, almonds, coconut and tequila, caused the actor to keep dipping, smiling and offering spoonfuls to the film crew.
Her masterful mixture of strawberry cheesecake, ricotta, cream cheese, chocolate and peanut butter, called "Strawberry Yum," for Ludacris had the rapper asking Ms. Kamara to make more just for him.
"Those were great days for me," Ms. Kamara told the Free Press about the two challenges that have aired. "I love me some Ludacris. He was constantly going through my head as I made his flavor."
Until the other challenges are broadcast, she is sworn to secrecy on how they turned out and whether she was chosen the ultimate winner.
Unfortunately, even if Ms. Kamara wins, she cannot sell her winning flavors in her Richmond shop, Ruby Scoop. All of the ice cream flavors were created for the Food Network competition only.
"Clash of the Cones" was filmed in May on the Ben & Jerry's factory grounds in Waterbury, Vt., where a specially constructed kitchen-lab was set up where the contestants mixed, baked, stirred and chilled their creations. It premiered on Aug. 16. Special guests on the remaining episodes are the Food Network's Duff Goldman and Buddy Valastro and the ice cream kings themselves, Ben and Jerry.
Ms. Kamara, a recent Virginia Commonwealth University graduate, is the daughter of immigrants. Her father is from Sierra Leon and her mother is Egyptian and Mauritian. Ms. Kamara grew up outside Washington in Silver Spring, Md., where she said her love of different foods started. She said she was exposed to diverse cooking styles, with her life experiences and food instincts a big part of her thinking about different ice cream flavors. Those instincts, and her popularity on the show, have brought people from near and far to Ruby Scoops.
"The exposure has brought people in Richmond, especially in the North Side community, to the shop," Ms. Kamara said.
Recently, families from Florida and Philadelphia visited and tried several flavors from the menu.
"The families, as well as other curious neighbors, come in and see what all of the hype was about," Ms. Kamara said. "We live up to it."
Ruby Scoop's unusual and tasty creations include Dulce de Leche and Honey Lavender, Vanilla and Chocolate, Butter Pecan and Strawberry Yum Yum ice cream, and Shine Farms Watermelon, Roasted Pineapple Rosemary, Guava Daiquiri and Lemon Bert sorbets.
Ms. Kamara hopes to stay in business whether or not she wins "Clash of the Cones." Being on the show and getting great exposure helps people know who she is and what she is creating in her shop, she said.
"It has taken (Ben & Jerry's) more than five years to build their empire," Ms. Kamara said.
Her ultimate goal is to have shops in different locations and become a household name.