Friends throw fundraiser for singer Carlton Blount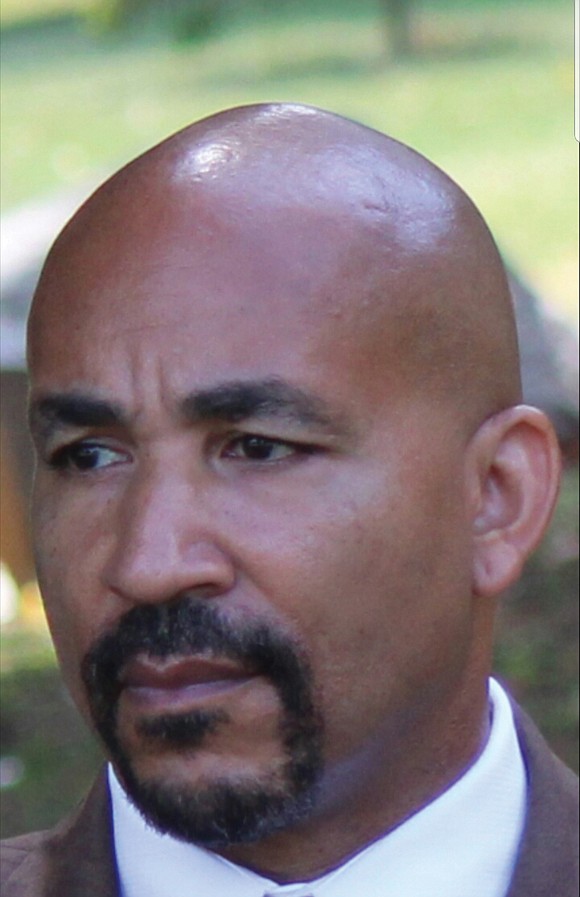 Carlton V. Blount's voice has taken him to New York, Los Angeles and a host of other places he could only dream about when he was growing up in Richmond.
Starting at Hermitage High School where he peerformed with his first band, the silky-voiced crooner has been pouring out music for five decades over the radio, on TV and in live performances.
A slender, bearded man, Mr. Blount has been the singer at more than 1,000 weddings, recorded countless jingles and commercials for small and large businesses and government entities, created a series of albums that include his own soul song compositions and earned acclaim as the lead singer for eight years for the renowned R&B group The Main Ingredient.
The Richmond native, best known for his cover of Larry Graham's "One in a Million You," was at one time recruited by both The Manhattans and The Temptations to join their groups, though those gigs fell through. Still, he performed widely with the band he developed called Total Control, which enabled him to be fully engaged with music.
But time and health challenges have taken their toll.
At 61, he lives with his father, Cephas N. Blount, a retired federal employee, and is struggling to make ends meet after suffering a stroke and being stricken with Parkinson's disease. He also is dealing with other chronic conditions, including arthritis, diabetes and a pinched nerve in his back.
That's why a group called Friends of Carlton Blount is throwing a fundraiser for him. They hope that musicians, fans and others who know the mild-mannered, soft-spoken performer will pitch in with a donations for him.
The fundraiser will take place 3 to 4 p.m. Sunday, Sept. 26, in the parking lot of Second Baptist Church, 1400 Idlewood Ave. The pastor, Dr. James Henry Harris, is supporting the initiative, according to Russell Bennett, the founder and leader of the a cappella group Bak N Da Day, who organized the event for his friend.
Mr. Bennett, a retired Richmond Public Schools employee who currently operates Outdoor Affair Catering, said he came up with the idea and pulled together a dozen other people in a bid to "help Carlton manage the demands of his serious health conditions."
"A musician needs his instrument," Mr. Bennett said, "and in this case, Carlton's instrument is his voice. He has no way to make a living when his voice is not working."
He said Mr. Blount's recordings would be played to serenade people who come to the fundraiser to drop off donations.
Mr. Bennett said donations also can be made directly to Mr. Blount through his Cash App account, $shake724, or by sending the donation to Carlton Blount, P.O. Box 27641, Richmond, Va., 23261.
"We need to do what we can for him," Mr. Bennett said. "He is deserving of our support."
The son of Mr. Blount and the late hairstylist Josephine Blount, Mr. Blount said he first remembers singing when he was 5. His hopes for a career in music started to come together when he joined The Volunteer Choir, then at Second Baptist Church, under the direction of the late Larry Bland. Mr. Bennett also was a member.
Mr. Blount said as people in the choir heard him sing, they began encouraging him to seek wider venues. He said Mr. Bland assisted by having him participate in the June Jubilee Festival that Mr. Bland was producing at the time.
Building on his growing popularity, he created a band with some of the musicians who played with the choir and quickly started gaining bookings. He said he also benefitted from meeting two top area professionals in music production, Bill Grishaw and Hannon Lane. Mr. Blount said both have been involved in creating the albums he has released and in connecting him to other elements of the music industry.
Mr. Blount's two children, Corey and Chelsea, are both involved in the music business in Los Angeles. In 2019, Corey Blount co-wrote, produced and performed with NOURI the song "Where Do We Go From Here" that achieved No. 1 ranking in eight countries in Southeast Asia and the Middle East.
Mr. Blount said he's doing what he can to avoid giving in to his health problems. He continues to write new songs and sing. "I already have two albums completed," he said, and hopes soon to have the material arranged in good order so the albums can be released.
Still, he is grateful that Mr. Bennett and others are pitching in to connect him to services he was unfamiliar with, are checking in to make sure he is taking care of himself and are hosting this fundraiser to provide additional support.
"I'm so grateful to have great friends," he said.