Ruth Coles Harris Leadership Institute's Leadership Awards Luncheon slated for Sept.18
9/9/2021, 6 p.m.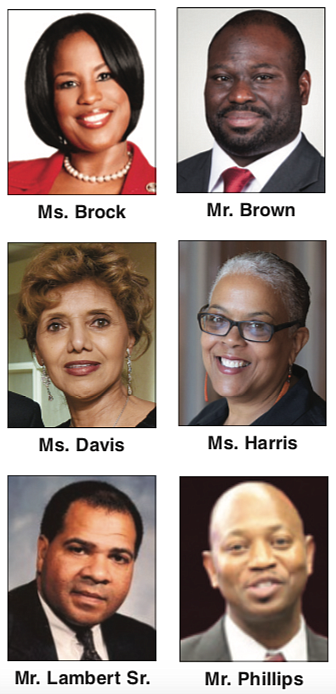 Six people who have made lasting impacts within their communities and on Virginia Union University will be honored at the 2021 Ruth Coles Harris Leadership Institute's Leadership Awards Luncheon.
The event will be held 11:30 a.m. Saturday, Sept. 18, at the Claude G. Perkins Living and Learning Center on the VUU campus, 1500 N. Lombardy St.
The honorees are: Roslyn M. Brock, former chair of the national NAACP and chief global equity officer for ABT Associates; Carlos M. Brown, senior vice president, general counsel and chief compliance officer for Dominion Energy;
Beverly Brown Davis, chief operating officer of Davis Brothers Construction Co. and an associate professor at Reynolds Community College; Greta J. Harris, president and chief executive officer of the Better Housing Coalition, a member of the Markel Corp. Board of Directors and the Virginia Tech Board of Visitors; Richard A. Lambert Sr., president and owner of Scott's Funeral Home and president of Richard A. Lambert Investments LLC; and N. Scott Phillips, managing member of N. Scott Phillips Legal and Business Consulting Services, director of the Mid-Atlantic Region MBDA Advanced Manufacturing Center and a member of the VUU Board of Trustees.
The keynote speaker for the luncheon is Dr. Nicole Thorne Jenkins, the John A. Griffin dean at the McIntire School of Commerce at the University of Virginia.
"We are fortunate enough that Dr. Ruth Coles Harris will be in attendance at this year's event and will help us celebrate this year's honorees," said Dr. Robin Davis, dean of the Sydney Lewis School of Business at VUU. "Her legacy and the example she set will live on in the community for decades to come.
Dr. Harris was the first African-American woman to pass the certified public accountant licensing exam in Virginia and among the first 100 African-Americans in the United States to pass the exam.
Dr. Harris also was the founding dean at VUU's Sydney Lewis School of Business and served on the faculty for 48 years.
The Ruth Coles Harris Leadership Institute offers a lecture series to deepen students' understanding of business; offers workshops and seminars for the community; and certificate programs for professionals in entrepreneurship, organizational change and leadership; and nonprofit and church administration.
Tickets are $50, or $400 for a table of eight, and may be purchased online at www.vuu.edu/register or call the VUU Sydney Lewis School of Business at (800) 368-3227.