VUU to launch Ruth Coles Harris Leadership Institute
9/27/2018, 6 a.m.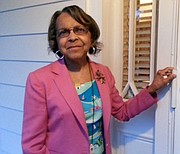 Virginia Union University officials are hosting a luncheon Saturday, Sept. 29, celebrating the establishment of the Ruth Coles Harris Leadership Institute at VUU's Sydney Lewis School of Business.
According to Dr. Delta R. Bowers, interim dean of the business school, the institute will offer a lecture series to deepen students' understanding of business and workshops and seminars for the community, as well as a certificate program for professionals in entrepreneurship, organizational change and leadership and nonprofit and church administration.
Dr. Harris, who served on the faculty at VUU nearly 48 years, was the first African-American woman in Virginia to be certified as a public accountant. She was the first director of the Sydney Lewis School of Business and oversaw the development and expansion of the school's curriculum and its enrollment to more than 400 students at her retirement in 1997.
Recognized with numerous awards and honors, Dr. Harris established an endowed scholarship for the business school to support future accounting and business majors.
Dr. Harris will be honored at the luncheon at the Claude G. Perkins Center for Living and Learning Center on the VUU campus.