Personality: Mollie S. Reinhart
Spotlight on founder of Befriend
9/30/2021, 6 p.m.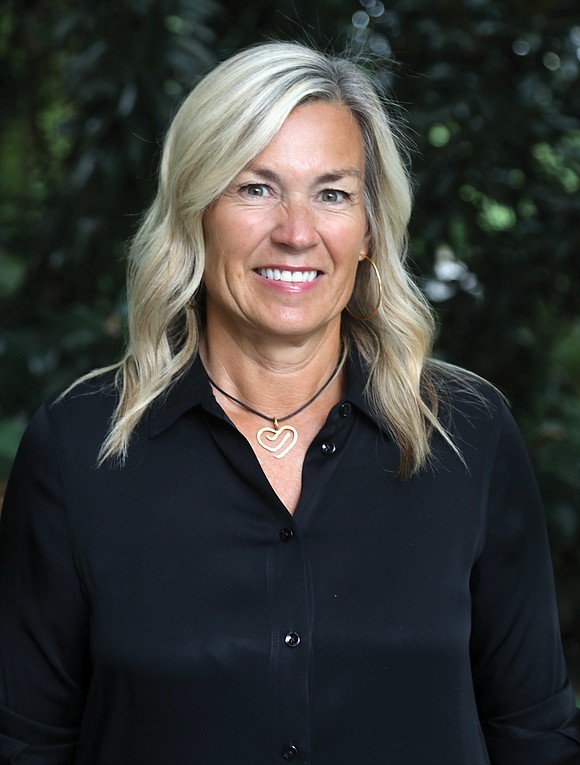 With COVID-19 still a clear and present danger, building and maintaining human connection can be difficult. It's a need that Mollie S. Reinhart and the organization she founded, Befriend, seek to address.
"Befriend connects people to meet one another and forge new relationships by uniting through compassion," Ms. Reinhart says. "Our goal is to create friendships instead of divisions so that every person can embrace empathy, foster understanding and unite our world."
From the individual level to the governmental level, compassion should be central, Ms. Reinhart explains.
"We believe compassion should be at the core of our community's actions—how we live, how we legislate and how we connect and thrive."
The Maryland native founded Befriend in December 2017 after the kind of chance encounter and growth the group seeks to ensure in others. Ms. Reinhart says the connection she made with someone whose experience was far different from Ms. Reinhart's comfortable life was transformative, and one that led to even further connections and friendships.
Looking to bring that experience and opportunity to as many as possible, Ms. Reinhart sees Befriend as a conduit for personal growth for those involved, regardless of their background.
Befriend offers various opportunities for people to connect through Befriend Gatherings at events and places such as coffee shops, gyms and community cleanups. Two such events are coming up: Wednesday, Oct. 6, at Jefferson Park on Princess Anne Avenue in Church Hill, where people will share inspirational quotes and conversation, and Tuesday, Oct. 12, a cleanup along the 25th Street corridor in Church Hill.
"I've had some amazing conversations with new friends while doing a community clean-up event," Ms. Reinhart says.
Ms. Reinhart's work with Befriend isn't just focused on the individual, but the institutional. In May 2020, Befriend led the City of Richmond's proclamation as a City of Compassion, joining the International Charter for Compassion global movement, a movement guided by the Golden Rule: To treat others as you wish others to treat you.
In March 2020, she was asked to join the then-nascent Human Services Expert Cabinet of Richmond, representing Befriend and Community Connections/Compassion. She uses this role to "continually seek and promote new ways for our city to lead through a lens of compassion."
Befriend's work within Richmond is only the start of Ms. Reinhart's vision for the group. Already, she says, Befriend is expanding across the country and around the globe. "We hope to continue spreading compassion all over the world."
Meet an advocate for compassion and connection and this week's Personality, Mollie S. Reinhart:
No. 1 volunteer position: Founder, Befriend.
Date and place of birth: July 19 in St. Michaels, Md. (July 19 is the same date as on the official seal of the City of Richmond. Always thought that was interesting!)
Where I live now: Richmond.
Education: Bachelor's in psychology and management from Hood College; master's in education in human development psychology, Harvard University Graduate School of Education; and current student at Stanford University's applied compassion training certification program.
Occupation: Founder, Befriend, a movement of connection through compassion.
Family: Married 32 years to Jim, my high school sweetheart, and three wonderful children, Porter, 27, Hunter, 24, and Caroline, 21.
Befriend is: Connection through compassion.
When and why Befriend was founded: Befriend started in December 2017 by chance when I met a woman who lived 5 miles from me yet endured a completely different life. I live in a comfortable, safe home; she is in public housing and hears gunshots every night. We became friends and I've been changed forever. This opened me up to other friendships. People became curious about these relationships, which ultimately led to the very organic beginning of Befriend.
Story behind the name: As my first friendship continued and others followed, I shared my experiences, my findings and my personal growth with my friends, Reggie Gordon and Patty Parks. The three of us would often talk about how we felt we were "on to something ground-breaking." But could simply being a friend be this life-changing? For me, it was. As our conversations continued and evolved, the core principle of friendship or befriending people rose to the top. Befriend was born.
A friend is: An equal, trustworthy, respectful, honest, kind and fun!
Racial equity and Befriend: Befriend creates opportunities for people from different backgrounds to share their stories and foster understanding and respect for every human being. Sparking this connection of recognizing our common humanity encourages racial healing.
Most memorable moment to date through Befriend: Anytime I "see" a light bulb go off at one of our Befriend Gatherings and someone is changed forever. I also have to mention when one of my first friends I met through Befriend, Ed, unexpectedly texted me, "Happy Mother's Day!"
Befriend's No. 1 hope for Richmond: Healing and transformation.
How Befriend is funded: Through individual donations.
How Befriend works: Befriend provides opportunities for people from different backgrounds to connect and share each others' stories. We continually spread the message of doing random acts of compassion as beginning ways to connect. For example, consider treating someone to a cup of coffee.
Befriend partners with: Anyone who would like to collaborate with us! There are many ways to connect with different people, and we are always open to discovering new opportunities. For example, we partner with YMCA of Greater Richmond, 804 Coaches for Change, Richmond Office of Community Wealth Building, RVA Light, RVA Fitness Warriors, Richmond Police Department, Boys and Girls Clubs of Metro Richmond, Communities in Schools of Richmond, Richmond Animal League, and many others.
Ways readers can get involved and make new friends: Follow us on Instagram@befriend.movement (this is where we do most of our updates), join our email list at www.befriendmovement.org, or email mollie@befriend.movement.
Upcoming events: 5:30 to 6:30 p.m. Wednesday, Oct. 6, at Jefferson Park, 1941-1999 Princess Anne Ave. Join us for conversation and sharing inspirational quotes. Also 10 to 11:30 a.m. Tuesday, Oct. 12, 25th Street Corridor Clean-Up with Richmond Police Department and Real Life. Meet at 1111 N. 25th St. Email mollie@befriend. movement.org to sign up for either of these events.
How I start the day: Being grateful for a new day to spread compassion and kindness and to serve our community.
A perfect day for me is: Walking in nature and then enjoying the Chesapeake Bay with my family.
What I am learning about myself during the pandemic: When I learned to become comfortable with uncertainty, endless possibilities opened up. Fear was no longer present. I embraced the circumstances, adjusted as necessary and learned to be flexible, creative and innovative to develop new ways of human connection.
Something I love to do that most people would never imagine: Given this time of year, I love to eat an entire bag of candy corn!
Quotes that I am inspired by: "When you know better, you do better." — Maya Angelou
"I wonder how many people I've looked at all my life and never seen." — John Steinbeck, "The Winter of Our Discontent."
Friends describe me as: Kind, inspiring, compassionate, trustworthy and energetic.
At the top of my "to-do" list: Spreading acts of compassion and kindness every day. Acts of compassion, big or small, matter!
Best late-night snack: Pea- nut M&Ms. (I'm eating them now.)
Best thing my parents ever taught me: Go for my dreams (and they were my safety net if I fell).
Person who influenced me the most: Regarding Befriend, hearing Bryan Stevenson, author of "Just Mercy," speak at Virginia Commonwealth University a few years ago was transformative for me. Many Befriend concepts stem from his work. And Ciji Redd was the woman from Creighton Court I met in December 2017 who changed my life forever.
Next goal: While Befriend's roots are in Richmond, we are expanding all over the United States and the world — most recently to Africa! We hope to continue spreading compassion all over the world. A documentary is in the works to reach even more people! Let's unite the world and create a better tomorrow for all.