Personality: Michael L. Berry
Spotlight on Metropolitan Junior Baseball League commissioner
8/4/2014, 10:56 a.m.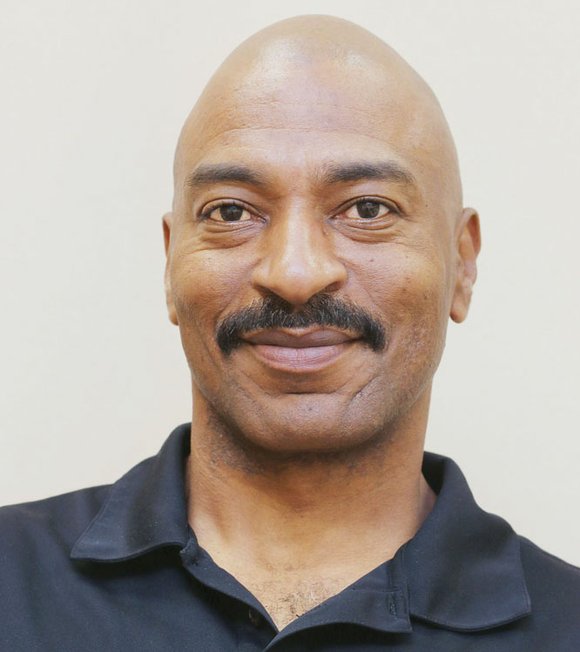 July 31-August 2, 2014 — Personality: Michael L. Berry
Spotlight on Metropolitan Junior Baseball League commissioner
Next week, hundreds of young baseball players from near and far will pour into the Richmond area.
They'll be here to compete for titles in the championships hosted by one of the area's oldest youth sports programs, the Metropolitan Junior Baseball League.
Michael Leon Berry will be in the center of the action.
He volunteers as MJBL's Virginia commissioner and is actively involved in organizing the 24th Annual Inner City Classic that will feature play in at least four age brackets, including the Black World Series for teams of players 12 and under.

The youths also will be offered a sightseeing trip to Washington as part of the activities.
"My role is to make sure everything goes smoothly, and everyone has fun," the 50-year-old Richmond native says with a smile.

Mr. Berry, who also coaches one of the Richmond entries, is proud to be involved in the nation's oldest and longest running baseball tournament for inner-city youths.
"I love working with kids," says Mr. Berry, who also serves as scoutmaster for four Boy Scout troops, including two troops that MJBL sponsors.
He's an inspiration with his bright-eyed optimism. He has been in a wheelchair since he crashed a motorcycle 27 years ago, but "I won't let that stop me."
The big tournament he is helping stage will cap MJBL's 49th season of providing youth baseball for children once banned from Little League because they were the wrong color.
The organization began its first season in 1966 under the leadership of the late Dr. William M. T. Forrester Sr., with support from former Gov. L. Douglas Wilder and the late editor/publisher of the Free Press, Raymond H. Boone.
Once limited to Richmond, MJBL now has affiliates in 19 states, the District of Columbia and the Bahamas — and many of the affiliates will be sending teams, Mr. Berry says.
He only wishes there was stronger support from his hometown for MJBL and its tournament. He's grateful that Henrico County has embraced the tournament and offered many of the fields.

While Dr. Norman Merrifield, director of the city's Department of Parks, Recreation, and Community Facilities, says he supports MJBL 100 percent, he acknowledges his agency declined to host the national tournament this year as he works to integrate "new staff along with trying to upgrade our fields for all our community youths." Maybe next year, he says.
Meanwhile, Mayor Dwight C. Jones, who made a big fuss when MJBL brought its youth tournament back to Richmond in 2012, has paid little attention this year.
He says there was a time when the city was a big supporter. He can recall when MJBL ran the summer baseball program for the city's recreation centers. Then "we had more than 30 teams. We provided the uniforms and the equipment and covered all the expenses."
He says the city severed its connection with MJBL about eight years ago, even banning recreation centers from recruiting players for MJBL teams.

At first the city tried to have its own program, he says, and then it tried to team up with Little League, an idea that flopped.

Today, he says, summer youth baseball is largely an afterthought in recreation programming, he says sadly. "It shouldn't be that way," he says.
He says as the Virginia commissioner, he's still talking with the city in hopes of restoring MJBL's ties and rebuilding youth baseball. "It's a wonderful game that helps build character and can be an avenue for our youths to gain college athletic scholarships."

No matter what happens, he says, MJBL will continue to make youth baseball available and to host a national tournament.
A close-up of this week's Personality, Michael L. Berry:
Occupation: Retired federal government employee; part-time employee with the Heart of Virginia Council of the Boy Scouts of America.
Current home: Henrico County.
Alma mater: Powhatan High School, with additional studies at John Tyler Community College, Virginia Commonwealth University and the University of Richmond.

How long I've been involved with MJBL: Since 1996.
Status of MJBL: MJBL began in Richmond and now has affiliates in 32 cities in 18 other states. There are also affiliates in the Bahamas and the District of Columbia.

Role I play as MJBL commissioner: I run the day-to-day operations and programs of the MJBL and work closely with our executive director, William Forrester Jr. I also serve as scoutmaster for two Boy Scout troops that MJBL sponsors, one based at Broad Rock Elementary School in the city and the other at the London Towne Apartments in Henrico.
Biggest challenge for MJBL: For me, it's getting the Richmond Department of Parks, Recreation and Community Facilities to work with us in making the baseball program better for our city youths. Another challenge involves getting parents to come out to support the players.
How I plan to meet it: Keep meeting and talking with city officials and parents until the support is there.
Year MJBL was founded: 1966. Dr. William Forrester Sr. led the effort to provide a baseball program for inner-city youths who were excluded from Little League because of the color of their skin.
Number of MJBL affiliates in Virginia: Two.
Locations: Richmond and Norfolk.
Number of MJBL players Virginia: About 270.
In Richmond: 120.
Number of teams in Richmond: We have nine teams in Richmond, including one for 7 and 8-year-olds; three for children 9 to 12, four for youths 13 to15 and one for teens 16 to 19. They play against teams from other independent leagues.
Number in Virginia: 18, including nine teams in Norfolk.
How MJBL differs from Little League: We focus on getting inner-city youths to learn the game of baseball. Most of our players are African-Americans, and we seek to help them gain scholarships to play at the college level and become better citizens in their community.
Why MJBL is needed: Because we provide leadership programs, such as the Boys Scouts, along with baseball. We also mentor and work with our kids on a one-to-one basis with home and school and any issues they may have.
MJBL's connection with Major League Baseball: MJBL was one of the first youth baseball programs that the major leagues included in its youth effort, Reviving Baseball in the Inner City program, which began in 1993.
Why I love baseball: Because of the kids. Teaching them the game teaches them about life. The more you know about baseball, the better you become. Life is the same way.
Top event: The 24th Inner City Classic set to run Tuesday, Aug. 5, through Sunday, Aug. 10. We expect 40 teams from 30 cities, with teams playing for the titles in the four age brackets: 12, 14, 16 and 19. The highlight will be the Black Youth World Series for players 12 and under.
Favorite major league team: San Francisco Giants.
Favorite major league player: Derek Jeter.
How youths perceive baseball: As a way to meet new friends and have fun.
How the game can benefit them: As a learning experience that builds character.
Reason more youths do not play: Because too many dream of becoming pro players in basketball or football or prefer to play video games.
Suggestion to get more youths involved with baseball: Through schools, churches and parents, and just talking to them about the game and what they can gain from it.
Best late-night snack: Ice cream and hot cherry pie.
Person I most admire: A person who is honest.
The one thing I have learned in life: It could always be worse and to just be blessed and thankful for the little things.
My next goal: To make MJBL Virginia a model program and to see one of my players make the major leagues.