Personality: Victor L. Rogers
Spotlight on new leader of Urban League Young Professionals
10/3/2014, 6 a.m.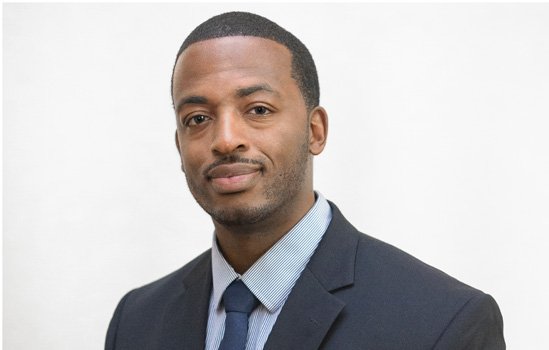 Victor Lamar Rogers is on a mission to engage younger African-American men and women in community affairs.
He's taking on the mission as the new president of the 57-member Urban League of Greater Richmond Young Professionals.

"We cater to those ages 21 to 45," says Mr. Rogers, who succeeded Shemicia L. Bowen in the nonprofit's top post in August.

He says the group mixes volunteerism and philanthropy with leadership development and fun.
"We get involved in everything from community cleanups to lobbying legislators to participating in drives for school supplies," he says.
He points to several activities this week as examples of the varied programming.
On Thursday night, members are to get tips on becoming more effective public speakers from a chapter leader of Toastmasters International.
That is to be followed by a Friday evening wine tasting at a Shockoe Bottom wine shop. The event will double as a fundraiser for the fight against breast cancer.
And Saturday, ULGRYP members will team up with chapters of Alpha Phi Alpha Fraternity and Alpha Kappa Alpha Sorority on a voter education event at the 2nd Street Festival.
Mr. Rogers describes himself as resilient, ambitious and genuine. He makes time for ULGRYP on top of his full-time work as a recruiter of computer and technology specialists for the Richmond-based staffing firm Astyra.
"I became involved with ULGRYP after a college friend recommended I join," he says. That was two years ago when he was a newcomer to Richmond and "wanted to engage civic-minded young professionals."
For him, the association has been ideal. He's hoping more people looking for the same kind of connection will find their way to the organization.
"We welcome individuals from all industries and professions."
Meet this week's Personality, Victor L. Rogers:
Place of birth: Fort Riley, Kan.
Current home: Richmond.
Alma mater: Old Dominion University, B.S. in marketing with a minor in management.
When elected: Took office effective Aug. 1, 2014.
Length of term: One year.
Mission: National Urban League Young Professionals is made up of a network of young professionals from across the country providing leadership development, economic empowerment and community volunteer opportunities. The organization trains, develops and educates young professionals to take leadership roles within the National Urban League, the Civil Rights Movement and society at large. Locally, members of ULGRYP are defining, developing, implementing and leading the millennial generation's civil rights agenda in support of our affiliate, the Urban League of Greater Richmond, which is celebrating 100 years of service to the Richmond area.
When I joined ULGRYP: 2012.
What ULGRYP means to me: It enables me to utilize my platform to have a positive effect on young professionals in the community. My passion is working within the area of workforce and professional development to stimulate job growth and job readiness.
When ULGRYP was founded: 1999, with Darius Johnson serving as its first president.
Reason: In the 1980s and 1990s, several Urban League affiliates recognized the need to prepare a new generation of young leaders to take the mantle of leadership of the Civil Rights Movement. Young African-American men and women in their 20s and 30s were invited to participate in and take an active leadership role in their local affiliate Urban League's programs and activities.
These leaders actively supported the Urban League movement by educating other young professionals about the movement, recruiting new members, furnishing young volunteers, sponsoring educational initiatives such as youth mentoring and tutoring programs, coordinating fundraisers for scholarships and financial support of affiliates and delivering personal and professional development and networking opportunities to young professionals in their local communities.
My vision for ULGRYP: To engage young professionals in the Greater Richmond area by creating unique and diverse personal and professional development programming, and by striving to positively impact economic development concerns in the surrounding area.
How is ULGRYP involved in the community: Through our community service outreach, programming and civic engagement.
Examples of events: Our signature programs include State of Black RVA, back-to-school supply drives; Occupy the Vote: Voter Registration Driver; See One — Be One Career Day at local elementary schools; Adopt-a-Spot community cleanups and the Annual YP Day on the Hill, engaging YP chapters statewide with state representatives for solution-based conversations and action steps.
When members meet: The first Thursday of each month.
How to become a member: Interested members are invited to all of the general body meetings and are welcomed to visit our website, www.empowerrichmond.org, to pay their dues and find out meeting information.
Membership requirements: NULYP targets young professionals between the ages of 21 and 45 for membership. While this is our target for membership, NULYP welcomes the assistance of individuals outside of the 21-to-45 age range.
ULGRYP's No. 1 challenge in Richmond: Sharing the talent pool of the ULGRYP with community leaders and other civic organizations to yield a collective positive outcome for various projects throughout the Greater Richmond area.
How I plan to meet it: By developing new strategies and collaborative partners in the community that are interested in retaining young professionals who improve the intellectual capital in the greater Richmond area.
Nobody knows I: Can cook quite well and specialize in Southern and Caribbean cuisine.

Person who influenced me the most: My mother, Vicky Rogers, and college fraternity adviser Ken Sutton.
Book that influenced me the most: Kevin Powell's "The Black Male Handbook: A Blueprint for Life."
What I'm reading now: "The Other Wes Moore: One Name, Two Fates" by Wes Moore.
Next goal: To increase our membership by 50 percent, increase the brand awareness of our mission throughout the Greater Richmond area and establish several new collaborative partners.