Personality: Kimberley L. Martin
Spotlight on founder of nonprofit helping students buy textbooks
4/3/2015, 10:42 p.m.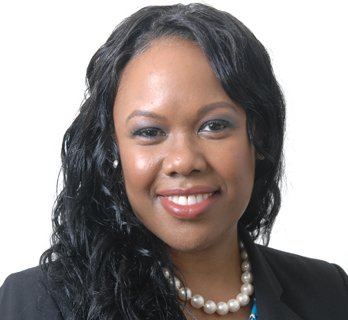 Kimberley L. Martin recalls how difficult it was for her to pay for textbooks when she attended college more than two decades ago.
"I got student loans. And after I had finished paying for my room, board and tuition, I couldn't always cover the cost of my textbooks," says Mrs. Martin. "I had to scramble to figure out how to pay for them."
Mrs. Martin earned a bachelor's degree in business information systems from Virginia State University in 1990 and a master's degree in human resources from Central Michigan University in 1998.
Because of her experience, Mrs. Martin is doing her part to ease the concerns of current college students who face similar financial obstacles buying their textbooks.
She and about 25 volunteers raise funds and award book scholarships through the KLM Scholarship Foundation Inc. that Mrs. Martin founded in 2002.
"I always knew when I was in college I wanted to pay it forward later by helping other struggling students pay for their textbooks," she said. "There weren't any other programs within the Commonwealth of Virginia that focused solely on awarding book scholarships," Mrs. Martin explained about founding the group.
The Henrico County-based nonprofit is holding its seventh annual flagship fundraiser, the Black & White Affair, on Saturday, April 4.
To qualify for book scholarships, students must attend classes full time at a Virginia college or university and have a GPA of 3.0 or higher, Mrs. Martin said.
"We look for students who are struggling financially," she says of the selection process, which requires students to fill out a questionnaire.
Mrs. Martin says she was inspired to found the nonprofit because "I wholeheartedly believe in the value of higher education and the intrinsic rewards that accompany it."
She adds the skyrocketing cost of a college education "makes it virtually impossible for most students to pay all the out-of-pocket expenses."
In her bid to aid students, Mrs. Martin is following in the philanthropic footsteps of her late maternal great-grandmother, Florence Brickhouse Bowser, who spent tireless hours spearheading fundraisers to build a school in Suffolk in 1920. The money was matched by the state of Virginia and the Rosenwald Rural School Building Program and helped build the Florence Graded School, the first Virginia-based Rosenwald School specifically built for African-Americans in Suffolk. The city of Suffolk erected a new elementary school in 1963 named for Mrs. Bowser.
Here's a look at this week's Personality, Kimberley L. Martin:
Date and place of birth: March 16 in Portsmouth.
Current place of residence: Hanover County.
Family: Husband, Gary A. Martin.
Why help with textbook expenses is necessary: According to the Government Accountability Office, college textbook prices have risen at twice the rate of annual inflation over the last two decades, following close behind annual increases in tuition and fees at postsecondary institutions. Since December 1986, textbook prices have nearly tripled, increasing by 186 percent, while tuition and fees increased by 240 percent and overall prices grew by 72 percent.
The cost of college textbooks can range from $500 upward to $1,200 on average for the school year, depending upon the curriculum and school. For many youths, this cost can serve as a barrier to higher education. Traditional scholarships will cover the cost of tuition and fees as well as room and board, but a huge gap remains for textbooks and supplies.
What I have been able to accomplish: Our Book Scholarship Program effectively addresses the "costly textbook syndrome" issue head-on by offering financial relief for Virginia college students. In a relatively short period, our organization has awarded $115,650 in book scholarships to 147 students who have attended or are currently attending 21 Virginia colleges and universities. The average book scholarship granted is more than $700 per school year.

Our parent-scholar community is very grateful for the work that we do. They consistently tell us that every little bit of support counts a great deal. They are the motivation for us to continue our work. They remind us that there are real people dealing with real financial obstacles to higher education.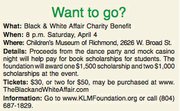 We are proud to assist ambitious, innovative and compassionate students to further their education and achieve collegiate goals. Our scholarship winners display remarkable academic achievement. They participate in extracurricular and community service activities. And they also have unmatched leadership abilities.
What KLM Foundation means to me: It's my life's purpose. It is a God-given tool for helping college students in need. It's my motivation and gives me the opportunity to work with wonderfully talented volunteers.
Our financial support comes from: Grants, fundraisers, public donations and corporate sponsorships.
The foundation's biggest success: Reaching our $100,000 milestone. This is nothing short of a miracle because our organization is run by volunteers.
We could do more if: We had access to additional funds.
Definition of a leader: A leader is willing to serve; focused on the important, not the minutia; able to motivate and inspire others; and able to ignite change and action.
I'm driven by: Making a positive impact and difference in the community.
Best late-night snack: Dark chocolate.
Prized possession: My health. Without it, I am unable to do anything.
Outlook at start of day:Let's go!
When people first meet me they think: I'm a nice person.
Persons who influenced me the most: My parents, sisters and brothers.
Book that influenced me the most: "The Power of Positive Thinking" by Norman Vincent Peale.
Book I'm reading now: "Outliers: The Story of Success" by Malcolm Gladwell.
If I've learned anything in life, it is: Be grateful for what you have.
Next goal: To distribute $150,000 in book scholarships.