Women swimmers make history
Free Press wire reports | 4/4/2015, 12:31 a.m. | Updated on 4/2/2015, 5:19 p.m.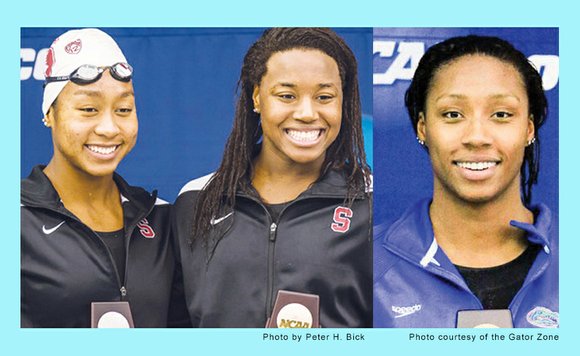 It was history pure and simple.
Three African-American women swimmers swept the 100-yard freestyle event at the Women's Division I NCAA Championship held March 19-21 in Greensboro, N.C.
Freshman Simone Manuel of Stanford University set an NCAA, American, U.S. Open, Championship and Pool record when she clocked a time of 46.09 seconds, capturing the title.
Her Stanford teammate, sophomore Lia Neal, placed second with a time of 47.13.
Natalie Hinds, a junior from the University of Florida, placed third with a time of 47.24.
Hinds, who is from Midland, Texas, reset her own school record in the event during the competition.
Swimming enthusiasts may remember Neal, who grew up in Brooklyn, N.Y., from the 2012 Olympic Games in London, where she won a bronze medal in the 4x100 free relay.
Manuel, who is from Sugar Land, Texas, said after the sweep that she "really didn't think about" the significance of the three women of color sharing the podium.
"I always thought it would be cool to go 1-2 with Lia because she's my teammate and we're so close," Manuel told USA Swimming, the governing body of swimming in the United States.
"But I hadn't thought about Natalie or what all three of us could do together. That hadn't occurred to me until later when everyone was so excited about it."
"What we can do now is…use this avenue to inspire others," said a celebratory tweet by USA Swimming.
Manuel and Neal also won the 400-yard freestyle relay. Neal led the first leg of the race, with Manuel anchoring it. They broke the U.S. record in the relay by 2 seconds and the U.S. Open/NCAA record by a full second.