R&B icon Percy Sledge dies at 74
4/16/2015, 9:49 a.m.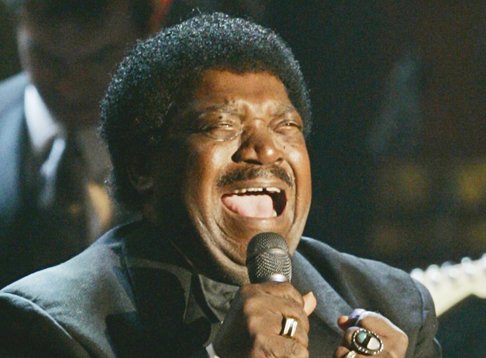 Percy Sledge, the R&B legend whose song "When a Man Loves a Woman," has become a "first-dance" anthem for newlyweds at wedding receptions, has died at his home in Baton Rouge, La. He was 74.
William "Beau" Clark, coroner for East Baton Rouge Parish, confirmed that Mr. Sledge died about an hour after midnight on Tuesday, April 14, 2015, of natural causes in hospice care.
Mr. Sledge was an icon of the "Muscle Shoals Sound," named for the city near his hometown of Leighton, Ala., and known since the 1960s for local recording studios where hits that shaped American pop music were recorded.
Mr. Sledge was a young 24-year-old when he recorded "When a Man Loves a Woman" in 1966 at Norala Sound Studio in Sheffield, Ala.
It was his first recording, one that launched an enduring career, established once-obscure Muscle Shoals as a recording mecca, and helped usher in an era when white and black musicians worked together in the studio.
The song reached No. 1 on both the Billboard Hot 100 and R&B singles charts. It was No. 54 in the list of Rolling Stone's 500 greatest songs of all time.
It was Atlantic Records' first gold record. Company executive Jerry Wexler later called the song "a holy love hymn." It became a favorite at weddings and turned up in movies, including "The Big Chill" and "The Crying Game."
The song's enduring popularity landed Mr. Sledge in the Alabama Music Hall of Fame in 1993. He also was inducted into the Rock and Roll Hall of Fame in 2005.
In 2010, in an interview with USA Today's Jerry Shriver, Mr. Sledge was reluctant to describe the romantic catastrophe that produced the song, the most anguished, aching, iconic soul anthem of the Boomer era.
"I am happily married now, so just let it go. That's been written already," he said then.
Mr. Sledge had other hits between 1966 and 1968, including "Warm and Tender Love," "It Tears Me Up," "Out of Left Field" and "Take Time to Know Her." He returned to the charts in 1974 with "I'll Be Your Everything."
Growing up, Mr. Sledge worked in the cotton fields around his hometown and in a hospital in nearby Sheffield. He also spent weekends playing with a rhythm-and-blues band called the Esquires. A patient at the hospital heard him singing while working and recommended him to record producer Quin Ivy.
In April 1994, Mr. Sledge pleaded guilty in federal court to tax evasion involving income from concerts in the late 1980s. He was sentenced to six months in a halfway house, given five years of probation and ordered to pay $96,000 in back taxes and fines.
Mr. Sledge had surgery for liver cancer in January 2014, but resumed touring shortly after.
He is survived by his second wife, Rosa, whom he married in 1980, and 12 children.