Carbonell brings the spice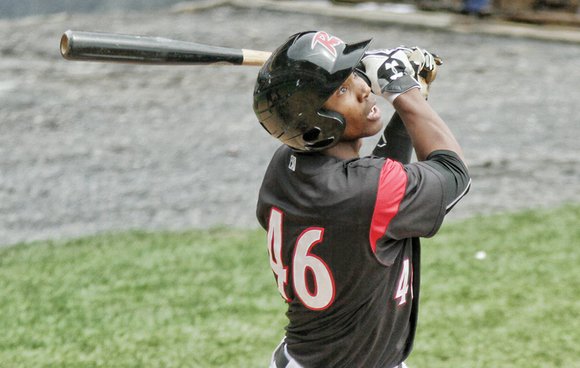 Peanuts, popcorn, Cracker Jacks … and "mixto," a Cuban sandwich.
Flying Squirrels vendors might consider expanding the fare at The Diamond for prized prospect Daniel Carbonell and the fans.
The switch-hitting left fielder/lead-off hails from Camaguey, Cuba, and is among the latest to join U.S. pro ball from that Caribbean island's fertile baseball turf.
Carbonell, 23, is a lithe, 6-foot-3, 196-pound package of speed and potential power who figures heavily into the long-range plans of the Flying Squirrel's parent organization, the San Francisco Giants.
"He has the tools to play at the big league level," San Francisco Assistant General Manager Bobby Evans told the Associated Press.
"He's been timed in 4.0 (seconds) from home to first, which is about as fast as it gets."
Carbonell, who played during the final month of the 2014 season in Richmond, is the lone Squirrel on the Giants' 40-man roster.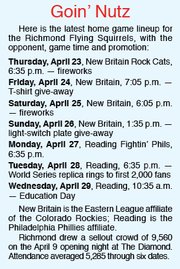 The Giants inked Carbonell to a lucrative, incentive-laden five-year contract last year after he left Cuba and established residence in Mexico.
Carbonell signed for a guaranteed $1.4 million, with a $1 million bonus.
He will earn $100,000 a year while in the minors, with his salary escalating to $500,000 to $600,000 if and when he is promoted to the Giants. 
His pay was more impressive than his play in early going under the Squirrels' rookie manager José Alguacil.
While dazzling at times defensively, Carbonell started the season 8 for 50 (.160) at the plate, with a double and a team-high four stolen bases.   
His frustrations mirror the team's. Richmond was 3-8 overall and suffering a six-game losing streak starting play Monday at Bowie.
For decades, there were few Cubans in American baseball because of the United States' embargo against the Communist-led nation.
Momentum has changed, however.
Cuban ballplayers have begun popping up around the major leagues and the minors. There were 18 Cubans on big league rosters starting this season.
Last year, five Cubans were selected for the big league all-star game. They were Los Angeles' Yasiel Puig, Chicago White Sox's José Abreu and Alexei Ramirez, Cincinnati's Aroldis Chapman and Oakland's Yoenis Cespedes, who is now with Detroit.         
Many more are likely en route as ballplayers discover new ways to exit the island in search of U.S. baseball wealth.
Richmond's baseball history includes several Cubans.
The manager for the Richmond Virginians in 1963 and 1964 was Cuban Preston Gomez. The Richmond Virginians were a Triple A farm club of the New York Yankees. Gomez went on to manage San Diego, Houston and the Chicago Cubs in the big leagues.
The most famous Cuban to suit up for Richmond was pitcher Luis Tiant, "El Tiante," for the 1971 Richmond Braves.
Tiant was 3-4 in nine starts for Richmond, then an affiliate of the Atlanta Braves, before being sent to Boston. He went on to pitch in the majors until 1981, recording 229 victories.
With several Cuban restaurants around town, including Kuba-Kuba, Cuba Tropical and Havana '59, a spicy "mixto" — a blend of pork, ham, cheese, butter, mustard and dill pickle on a hot bun — might be a welcome flavor to The Diamond's menu.