Nation of Islam moves mosque to Downtown
Jeremy M. Lazarus | 4/24/2015, 11:27 a.m. | Updated on 4/24/2015, 11:27 a.m.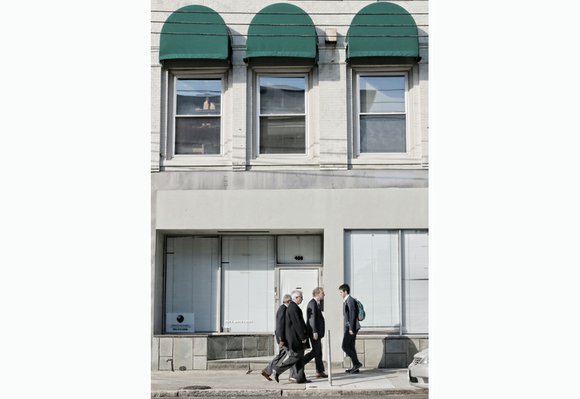 The Nation of Islam has quietly settled its Richmond mosque into a new home in Downtown.
Forced to give up its large, steepled space on South Side, Muhammad Mosque No. 24 currently is operating out of leased space at 408 E. Main St.
The two-story building has been the mosque's home since January, said Tracy Muhammad, student minister of the mosque, the local affiliate of the Chicago-based NOI led by Minister Louis Farrakhan.
The only indication of the NOI's presence is a small sign in a first-floor window for Respect for Life Academy, the name of the mosque's day care and school.
The mosque had to find a new home after filing for bankruptcy two years ago and ultimately turning over its former home at 104 Cowardin Ave. to SunTrust, which held the mortgage.
The Cowardin Avenue structure, originally St. Luke's Episcopal Church, is now home to a Latino congregation, the Church of the Living God, which purchased it from the bank for $230,000, according to court records. The official name of the new owner is Iglesia Del Dios Vivo Columna y Apoyo del la Verdad La Luz.
Founded around 1960 as the Civil Rights Movement was in full flower, Muhammad Mosque No. 24 long filled two retail buildings on Brookland Park Boulevard on North Side.
In 2005, Mr. Muhammad and other followers of Mr. Farrakhan moved the mosque into the far larger space at the corner of Cowardin Avenue and Bainbridge Street.
The mosque obtained a $380,000 mortgage from SunTrust and nearly $20,000 from the national NOI to make the purchase from the nearby Richmond Christian Center, which is now in bankruptcy itself. RCC had owned the church building since 1997.
However, by 2012, the mosque was struggling to pay its bills. That forced the mosque to file for bankruptcy to stave off foreclosure.
According to documents filed in the case, the mosque owed SunTrust only $180,000, but was unable to refinance. The mosque lost the building after its Chapter 11 filing for reorganization was converted into a Chapter 7 filing for dissolution of its assets. A trustee appointed to the case found the mosque had no assets.

The bank foreclosed last September and sold the building to the Latino congregation around Thanksgiving.