Mobile home residents file lawsuit against Richmond
Joey Matthews | 8/20/2015, 9:32 a.m. | Updated on 8/20/2015, 10:45 p.m.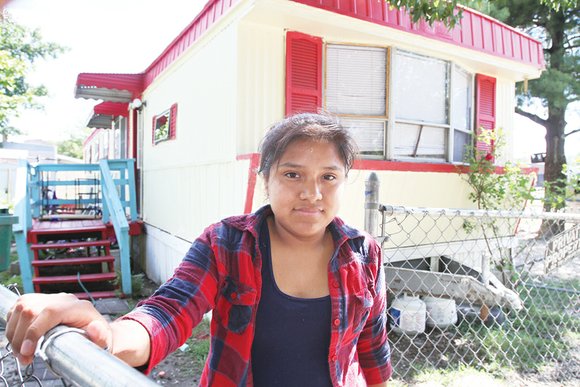 Current and former residents of two South Side mobile home parks have accused the City of Richmond of waging a deliberate campaign to force them from their homes through an aggressive code enforcement campaign.
Now they are fighting back.
Thirty-three of the current and former residents of Rudd's Trailer Park and Mobile Towne Mobile Home Park filed a fair housing lawsuit against the city Tuesday in federal court.
In the 71-page complaint, they are seeking to end what they allege is a discriminatory campaign by the city to force them from their homes by unleashing city inspectors over the past year and a half to comb through their mobile homes looking for code violations.
The lawsuit asks the court to order the city to stop punitive enforcement actions and to address safety issues in mobile home parks in a way that does not displace the overwhelmingly Latino community.
It also seeks unspecified damages for the "emotional distress and other harms the city's aggressive campaign has caused."
Since the city began its inspections — in February 2014 at Rudd's at 2911 Jefferson Davis Highway and a year later at Mobile Towne at 5005 Old Midlothian Turnpike — dozens of residents have been evicted after their mobile homes were condemned because of safety concerns. Others have moved out fearing they could not afford to make the repairs necessary to stave off eviction.
"Some people who were doing everything they could to comply — getting permits and making repairs — the city just condemned their homes and they were left homeless," according to Olivia Leon-Vitervo, a plaintiff living in Rudd's Trailer Park.
"I watched the city do that to my uncle's family one morning," she added. "They didn't seem to care what happened to them."
Gerardo Martinez, a resident of the Mobile Towne, added, "We all want a safe home and we want to comply with the code. But we feel like the city is targeting mobile home parks because we are communities of poor, mostly Latino families."
The residents are being represented in the suit by the Legal Aid Justice Center in Richmond and the law firm of Crowell & Moring in Washington.
The firms estimate that while, according to U.S. Census data, the population of Richmond is less than 7 percent Latino, the population of the city's mobile home parks is about 70 percent Latino.
The suit alleges that the city has subjected mobile home residents to harsh enforcement actions that include intrusive inspections with armed police escorts; threats to condemn homes or even bring criminal charges if residents don't allow inspectors inside; and unreasonable and legally unjustified repair standards that make compliance unrealistic.
The suit describes multiple attempts since last summer by residents and area nonprofits to resolve the city's safety concerns without risking residents' access to housing. But the suit alleges the city consistently has rejected or withheld funding for these alternatives.
"Instead of finding ways to help ensure they have safe housing, the city is threatening to shut down the only option many of these families can afford," said attorney Phil Storey.
"Federal civil rights laws protect minorities from policies that disproportionately threaten their access to housing," said attorney Clifford Zatz. "That's especially the case when the city could choose less disruptive ways to address safety concerns."
Meanwhile, the city intends to continue its inspections in the two mobile home parks, according to Douglas H. Murrow, the city's commissioner of buildings.
"Due to significant life safety issues, we are continuing our inspections at Rudd's and Mobile Towne," he stated Tuesday in response to a query. "Other mobile home parks have minor issues, but are being handled at this time by regularly scheduled code enforcement inspections."
The Free Press sought a response from Mayor Dwight C. Jones about the lawsuit, but Tammy D. Hawley, a spokesperson for the mayor, stated Tuesday, "The city does not comment on pending litigation."