Coffee shop business grinds to a halt
Jeremy M. Lazarus | 12/5/2015, 5:20 a.m. | Updated on 12/5/2015, 5:20 a.m.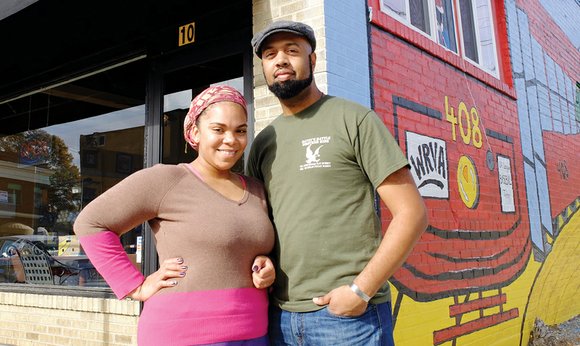 A combination coffee and bike shop was supposed to be a first step in breathing fresh life into a neighborhood business strip in North Side.
But four months after the ceremonial, high-profile ribbon-cutting, only the nonprofit bike shop remains in operation at 10 E. Brookland Park Blvd. — and just a few days a week.
Streetcar Café, the coffee shop and main element of this experiment in neighborhood revitalization, closed Saturday — raising concern about the $120,000 Richmond taxpayers contributed to the development group that renovated the building.

"It's disappointing," said Derek McDaniels, president of the nonprofit Nehemiah Community Development Corp. that he and his wife, Cybelle, founded to uplift the Barton Heights retail area that sprawls for blocks along and around the intersection of North Avenue and Brookland Park Boulevard.
Mr. McDaniels said Nehemiah would be looking for new operators.
"This cannot fail," he said.

The Brookland Park Boulevard corridor is an area that has struggled. Barber and beauty shops remain plentiful, but other types of businesses have scrambled to attract customers.
Even before Nehemiah came in, there had been success stories, including a bakery and a deli. And there has been substantial investment from Family Dollar and Dollar General.

Still, Mr. McDaniels said 30 percent of the storefronts are vacant, which is why he viewed the coffee-bike shop as a catalyst for change.
The closure of the current coffee shop came after Nehemiah terminated the month-to-month lease under which Sean and Kirsa Crippen were operating the shop that they had begun with so much promise.
Before closing, the Crippens said that Nehemiah never allowed their fledgling café to become profitable.
"It takes time," Mr. Crippen said. "It doesn't happen overnight."
He also said the deal that Nehemiah was trying to get them to sign would have required them to pay 70 percent of their revenue each month. Rent also would have doubled from $600 to $1,200 per month.
"Our business grew every month," Mr. Crippen said, "and we were covering our operating costs. But we still had a ways to go to become profitable."
The Crippens are now looking at other potential locations that offer better terms.
Mr. McDaniels said that the Crippens could have turned profitable if they had been more aggressive in marketing and stayed opened longer hours. Most days, the shop was open from 7 a.m. to 2 p.m.
Still, the closure has not aided Nehemiah's reputation as a business incubator whose work would reap business development rewards.
A property developer and adviser, Mr. McDaniels sold a vision to the city that the nonprofit could start successful small businesses at one site and then use part of the profits to renovate other vacant buildings and fill them with additional businesses.
Mr. McDaniels said Nehemiah's renovation of 10 E. Brookland Park Blvd. already had begun to stimulate interest in other vacant buildings.
City Council members Chris A. Hilbert and Ellen F. Robertson, whose districts split the area and who both have been eager to see this area thrive, bought into the vision and worked with the city administration to secure $120,000 in grants to support Nehemiah.
With another $30,000 in donations added to the city's contribution, the McDaniels led Nehemiah in buying and renovating the vacant building and then seeking partners to carry out the vision.
They found their bike partner, Rob Gassie, a veteran bike builder and expert in repairs, to run the nonprofit Streetcar Cyclery.
After another potential partner dropped out, they found the Crippens, who ultimately used $45,000 from their savings and high-interest borrowing to equip the café side of the building.
"We wanted to create a shop that provided a friendly, neighborly atmosphere," Mr. Crippen said.
It seemed like a winner when Mayor Dwight C. Jones, Mr. Hilbert and Ms. Robertson joined a host of residents and other city officials to celebrate the grand opening on July 13.
But the failure of the McDaniels and Crippens to see eye-to-eye on the purpose of the business created a loser. The space filled with tables, racks and equipment now is dark.