NASCAR inducts Danville's Wendell Scott into Hall of Fame
2/6/2015, 12:17 p.m.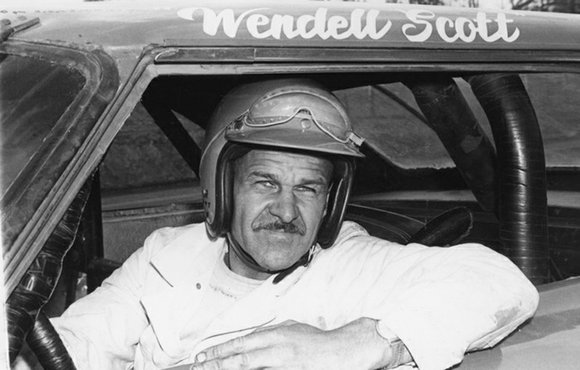 Wendell Scott, the Danville native who got his start in auto racing by running moonshine in the 1940s, has been inducted posthumously into the NASCAR Hall of Fame.
The trailblazing stock car racer was the first African-American to break into the previously all-white world of NASCAR when a part-time steward granted him a NASCAR license at a race in 1953 at the old Richmond Speedway.
From there, Mr. Scott went on to win more than 100 races at local tracks before making his debut in NASCAR's premier series in 1961. He competed in the top series for 13 years, finishing in the top 10 spot 147 times in 495 Sprint Cup events.
In 1963, he became the first African-American to win a NASCAR premier series race when he took the checkered flag at the Jacksonville 200 at Speedway Park in Jacksonville, Fla.
He died of cancer in Danville in December 1990 at age 69.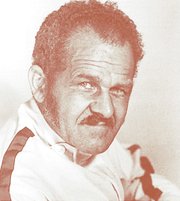 Mr. Scott became the first African-American enshrined in the NASCAR Hall of Fame at a ceremony held Jan. 31 in Charlotte, N.C., where Bill Elliot, Fred Lorenzen, Joe Weatherly and Rex White also were inducted.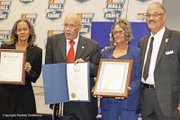 Mr. Scott's sons, Wendell Scott Jr., and Franklin Scott, accepted the induction on his behalf.
"Wendell Scott fulfilled his destiny, and now we can proudly say that he is the first African-American inducted in the NASCAR Hall of Fame. We must carry his legacy to even greater heights," Franklin Scott said.
He emphasized that his father overcame many obstacles to achieve his goals.
"Daddy was a man of great honor. He didn't let his circumstances define who he was.
"Daddy realized that life has a generational
component and he predicted a lot of what is happening. He would be delighted and happy that there is evidence of more opportunities for diversity and inclusion."
He concluded his remarks with a quote from Dr. Martin Luther King Jr. to describe his father's character.
"The ultimate measure of a man is not where he stands in moments of comfort and convenience, but where he stands at times of challenge and controversy," he said. "Wendell O. Scott Sr. stood the test of time."