HBCU athletes with Super Bowl past
1/30/2015, 9:03 a.m.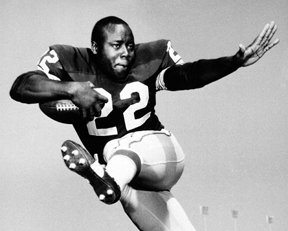 Athletes from historically black colleges don't figure to make much noise in this year's Super Bowl, but that wasn't the case in the event's early years.
In fact, the NFL in general and early Super Bowls in particular may have served to educate the public — black and white — about HBCU football.
Without NFL exposure, many football fans may never have paid attention to such HBCUs as Grambling State University, Florida A&M University, Southern University and Jackson State University, among others.
A shining light in Super Bowl I in 1967, when Green Bay took on Kansas City, was Green Bay running back Elijah Pitts from obscure Philander Smith College in Little Rock, Ark.
Pitts scored two touchdowns in Green Bay's victory as a fill-in for injured Paul Hornung, the 1956 Heisman Trophy winner out of Notre Dame. Notre Dame is a polar extreme of Philander Smith in terms of public recognition.
Other Kansas City starters in the inaugural Super Bowl were Frank Pitts (Southern in Louisiana), Otis Taylor (Prairie View in Texas), Buck Buchanan (Grambling in Louisiana) and Willie Mitchell (Tennessee State University).
A key Packers defender — and future Hall of Famer — was Willie Davis out of Grambling.
Super Bowl II, which was Green Bay against Oakland, featured Hewritt Dixon (Florida A&M), Ike Lassiter (St. Augustine's in North Carolina) and Willie Brown (Grambling.)
In New York's upset of Baltimore in Super Bowl III, starting Jets included Winston Hill (Texas Southern),
Emerson Boozer and Johnny Sample (Maryland Eastern Shore) and Verlon Biggs (Jackson State).
In Kansas City's win over Minnesota in Super Bowl IV, the Chiefs' headliners included Willie Lanier (Morgan State University in Maryland), Jim Marsalis (Tennes- see State), Jim Kearney (Prairie View), Robert Holmes (Southern) and Buchanan.
When the Colts prevailed in Super Bowl V against Dallas in 1971, a starting offensive lineman for Baltimore was Cornelius Johnson, out of Virginia Union University, and defensive back Charlie Stukes (Maryland Eastern Shore).
That same day, Cowboys starters included Rayfield Wright (Fort Valley in Georgia), Bob Hayes (Florida A&M), Jethro Pugh (Elizabeth City State in North Carolina) and Pettis Norman (Johnson C. Smith in North Carolina).
And that's not all.
Super Bowl's I and II pregame and halftime show was provided by Grambling State University's marching band. Florida A&M's Marching 100 was the halftime show in Super Bowl III.
Rosters for this year's combatants are thin on HBCU talent. Seattle's backup quarterback Tavaris Jackson (Alabama State University) and reserve receiver Ricardo Lockette (Fort Valley State) are the only Seahawks.
The Patriots' lone HBCU alumnus is back-up receiver Brian Tyms (Florida A&M).
As larger, majority-white colleges have opened their doors to African-American student-athletes, the impact of HBCU athletes on the NFL has nearly disappeared.