Richmond's Russell Wilson heads to Super Bowl
Fred Jeter | 1/30/2015, 8:16 a.m.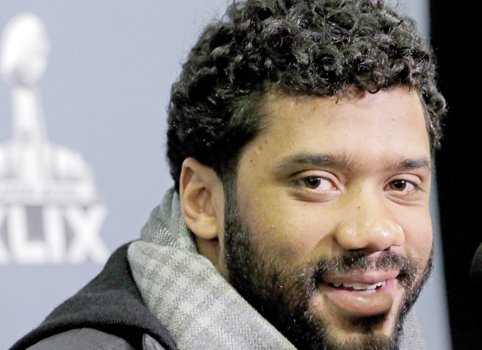 The Seattle Seahawks' Russell Wilson is listed at 5-foot-11, quite short by NFL quarterback standards.
But Richmond's link to Sunday's Super Bowl may be up to 6-foot now, maybe even 6-foot-1, if you don't press the measuring stick too hard atop his noggin.
Since Oct. 26, the former Collegiate School Class of 2007 whiz has not visited a barber or gripped a razor.
And while his curly mane and whiskers have continued to grow, so have the Seahawks' winning ways.
The defending Super Bowl champs have won eight straight games and 11 of the last 12 games since Oct. 26 as they head into Super Bowl XLIX against the New England Patriots.
The Seahawks had suffered rare back-to-back losses to Dallas and St. Louis prior to his decision to allow his tresses to flow free.
Like the biblical Samson, Wilson says there is history suggesting he gains super powers from longer locks.
Wilson let his hair grow in the weeks leading up to last year's Super Bowl, when the Seahawks defeated Denver.
So call this Hair-do II.
"Yeah, it's the same as last year. It's out," Wilson told the Seattle Times. "I had the same thing going on last year."
It's an old trend-superstition that started during Wilson's junior year at Collegiate — the season the Cougars won the first of consecutive state titles with Wilson at quarterback.
"It's one of those things. I did it with my Dad and I did it last year, so why not go with it," he said.
As millions of football fans huddle around TV sets for perhaps the year's premier sporting event, here are some Russell Wilson Fun Facts to impress fellow partygoers with.
Elite fraternity: With a win Sunday, Wilson will become one of only 12 quarterbacks with more than one Super Bowl win.
Others are Terry Bradshaw and Joe Montana with four each, Tom Brady and Troy Aikman with three, and Roger Staubach, John Elway, Bob Griese, Ben Roethlisberger, Bart Starr, Jim Plunkett and Eli Manning with two apiece.
Wilson would become the first quarterback to win two Super Bowls in his first three seasons.
Blown scouting report? Was he overlooked because of his height? The overall 75th draft pick in 2012, Wilson was just the sixth quarterback selected.
Earlier picks were Andrew Luck (first by the Colts), Robert Griffin III (second by Washington), Ryan Tannehill (eighth by the Dolphins), Brandon Weeden (22nd by the Browns) and Brock Osweiler (57th by Denver).
Show me the money: As a rookie, Wilson agreed to a four- year contract for $2.996 million with a $619,472 signing bonus. His salary this year was $662,434.
By comparison, Denver's Peyton Manning is making about $15 million per year and the Patriots' Brady is in the midst of a five-year deal worth $57 million.
Under the NFL's Collective Bargaining Agreement, Wilson becomes eligible to renegotiate for the 2015 season.
Wilson's agent, James "Bus" Cook, served in the same capacity for former quarterbacks Brett Favre and Steve McNair, and current quarterback Cam Newton.
Athletic genes: Wilson's grandfather, Dr. Harrison B. Wilson Jr. of Norfolk, played baseball, basketball and football and ran track at Kentucky State University and was basketball coach at Jackson State University from 1951 to 1960, posting a 340-72 record.
Dr. Wilson later became president of Norfolk State University from 1975 to 1997.
Wilson's father, Harrison B. Wilson III, died in 2010 of complications from diabetes. He was a top receiver at Dartmouth College and was drafted by the San Diego Chargers in 1980.
Wilson's brother, Harrison "Harry" Wilson IV, was a leading receiver at the University of Richmond in 2004 with 56 catches.
Wilson's basketball-playing sister, Anna Wilson, a Collegiate junior, already has committed to Stanford University.
From Williams to Wilson: The only other African-American quarterback to win a Super Bowl was Washington's Doug Williams in Super Bowl XXII.
Batter up: Wilson also played basketball and baseball at Collegiate, and continued baseball at North Carolina State University for three seasons.
He became the Colorado Rockies' fourth-round draft pick in 2010.
A second baseman, he played for the Tri-City Dust Devils in Pasco, Wash., in 2010, and for the Asheville, N.C., Tourists in 2011.
After the 2011 season, he informed the Rockies he was retiring from baseball to play in the NFL.
Heisman watch: After transferring from North Carolina State University, Wilson made the most of his one season at the University of Wisconsin.
He led the Badgers to the league title, defeating Michigan State 42-39 in the first Big 10 championship game.
Wisconsin lost to Oregon, 45-38, in the Rose Bowl, despite 296 passing yards and three touchdowns from Wilson.
He was ninth in Heisman Trophy voting.
Hands-some player: While Wilson's lack of height was a concern among NFL "experts," he was "long" in another area — hand size.
At the NFL Combine, Wilson's hands were measured at 101⁄4 inches.
That was longer than all five quarterbacks drafted ahead of him, including 6-foot-5 Luck, whose hands measure 10 inches.
In comparing Wilson's hands to other quarterbacks, NFL Scouting Combine states that Griffin's are 9.5 inches; the 49ers Colin Kaepernick's, 9.13 inches; the Packers'Aaron Rodgers, 9.38 inches; and the Cowboys' Tony Romo, 8.86 inches.