Musical homegoing for Maggie Ingram
Sandra Sellars | 7/9/2015, 1:05 p.m. | Updated on 7/9/2015, 4:18 p.m.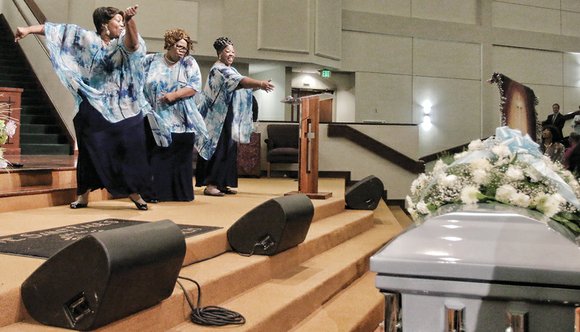 The Ingramettes delivered a powerful farewell to Mother Maggie Ingram at her homegoing service Thursday, July 2, at Saint Paul's Baptist Church in Henrico County.
The funeral service was a musical celebration of the life of Mrs. Ingram, whose evangelism through song and music has been a staple in the Richmond community and beyond for more than six decades. As the matriarch of The Ingramettes, Mrs. Ingram and her spirit will continue with the gospel group comprised of several generations of her family.
The talented voices of more than 100 singers and musicians — all dressed in white — with the Greater Richmond Metro Mass Choir, directed by Dr. Johnny J. Branch, filled the church sanctuary with a gospel essence that can only be described as awesome. The choir featured such local favorites as Larry Bland and Harold Lilly Jr.
A host of speakers talked about the life and legacy of Mrs. Ingram, including the Rev. Roscoe D. Cooper Jr., senior pastor of Metropolitan African-American Baptist Church; Levar Stoney, Virginia's secretary of the commonwealth; and radio personality Dr. Cavell Phillips.
Mrs. Ingram was buried in a powder blue casket with a microphone and a Bible. While her singing ministry allowed her to travel throughout the country, Mrs. Ingram also became an ordained evangelist by the Church of God in Christ in the 1980s. The self-taught musician instilled her gift in her children, who traveled with her performing in churches, music festivals and concert halls.
Everyone in the church rose to their feet as The Ingramettes paid tribute to Mrs. Ingram by performing two songs, including an upbeat rendition of "Until I Die." The song usually closed out The Ingramettes' concerts. And it was fitting that they would perform this song at the close of funeral as Mrs. Ingram's casket was taken out of the church and gently put into the waiting hearse. The harmony line, "I'm gonna keep on working for Jesus until I die," filled the sanctuary.
Mrs. Ingram was laid to rest at Forest Lawn Cemetery in Henrico County.