U.S. women win World Cup
7/9/2015, 1:47 p.m.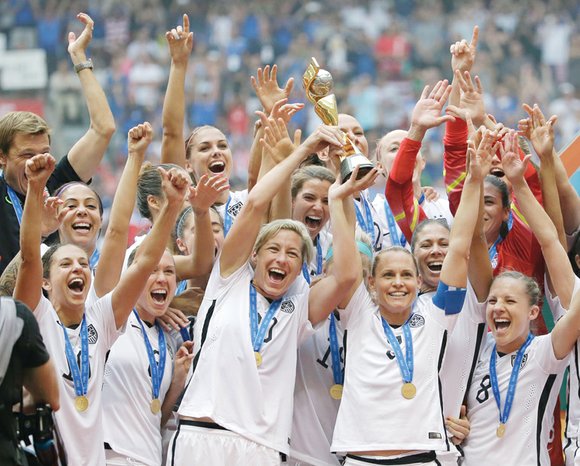 Reuters
Vancouver
The United States returned to the pinnacle of women's soccer with a 5-2 crushing of Japan in Sunday's Women's World Cup final. It was the end of a riveting tournament that pushed the sport into new territory.
The U.S. team last triumphed in 1999, but women's soccer is a vastly different sport than it was a decade-and-a-half ago, with new nations forging their way into the elite amid an unprecedented level of global interest.
As Golden Ball winner Carli Lloyd demonstrated with her astonishing 16 minute hat-trick in the final, including a goal from the halfway line, the women's game is delivering a level of excitement and quality that was non-existent in the 1990s.
Prior to the final, all that was missing from the tournament in Canada was a star individual, a player who could symbolize the new status of women's soccer.
Once play had started in Vancouver, it took a little more than a quarter of an hour for Lloyd to emerge as the flag bearer for a new generation.
On Sunday, 53,341 fans packed into BC Place and millions more tuned in around the world to witness the U.S. team annihilate the defending champions by storming to a 4-0 lead inside 16 minutes.
The onslaught was a cue for the overwhelmingly American crowd to start the party early with the U.S. flag able to fly high and proud for the remaining 74 minutes.
For Japan, the final was a painful jolt back down to earth after their triumph over the U.S. team in the 2011 Women's World Cup, and their run to the Olympic silver medal a year later.
The "Nadeshiko" may well have to undergo a change of generation — and perhaps look at evolving their tactics further from the short-passing approach that brought them so much success under coach Norio Sasaki.
But globally, all the signs point to continued growth for women's soccer.
England, which considers itself the traditional home of soccer, had been slow to warm to the women's game. But the success of the Lionesses in securing third place catapulted them to prominence at home and abroad.
Australia, beaten by Japan in the quarterfinals, are growing an impressive women's program and hope to challenge Asian rivals for regional dominance.
The Matildas showed their growing promise by beating Brazil in the second round, but South America also is displaying signs of improvement with Colombia impressing many by reaching the last 16.
France played some exhilarating football before their quarterfinal exit and the Netherlands are also catching up, while there are signs of African teams such as Nigeria and Cameroon closing the gap.
"Women's football is a global game now, we have seen that at this tournament," England Coach Mark Sampson said.