Bobbi Kristina dies after 6 months in coma
Reuters | 7/31/2015, 3:34 a.m.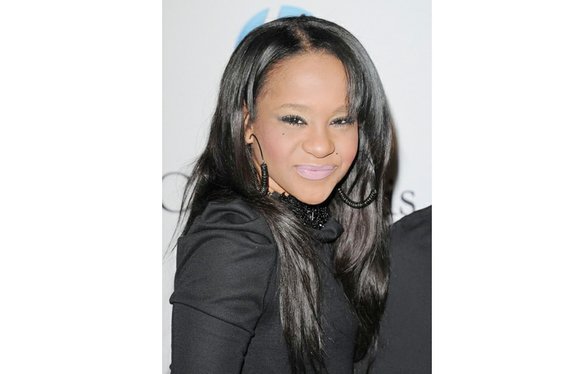 Reuters
ATLANTA
An initial autopsy on Bobbi Kristina Brown on Monday found no significant injuries and no obvious underlying cause of death for the daughter of the late entertainer Whitney Houston and R&B singer Bobby Brown.
Ms. Brown, 22, died Sunday, July 26, 2015, some six months after sustaining irreversible brain damage in an incident at her suburban Atlanta home.
The Fulton County Medical Examiner's Office in Georgia said Ms. Brown had no previously unknown medical conditions that would have contributed to her death.
The office also said it has issued subpoenas to help gather documentary information on her death, and would conduct additional tests that are expected to take several weeks.
Ms. Brown died at an Atlanta area hospice, where her family had placed her a month ago after giving up hope she would recover. On Jan. 31, she was found face down and unresponsive in the bathtub by her boyfriend, Nick Gordon, and a friend.
"Krissy was and is an angel. I am completely numb at this time," Mr. Brown said in a statement issued by his lawyer. It was his first comment on his daughter's death.
"My family must find a way to live with her in spirit and honor her memory. Our loss is unimaginable. We thank everyone for the prayers for Krissy and our family as we mourn my baby girl," he added.
Her death comes three years after her Grammy Award-winning mother, who had battled substance abuse, drowned in a bathtub in a Beverly Hills hotel at age 48. Authorities said cocaine abuse and heart disease contributed to Ms. Houston's death Feb. 11, 2012.
The medical examiner's office had said earlier that efforts to determine what happened to Ms. Brown in January would be "challenging" given the time gap between the bathtub incident and her death.
Ms. Brown inherited her mother's fortune.
A $10 million civil lawsuit filed last month by the court-appointed conservator for Ms. Brown accused Mr. Gordon of causing her "life-threatening injuries" and of stealing from her bank account while she was in a coma.
No one has been criminally charged in the case, which has been referred to the Fulton County District Attorney's Office for further review.
Entertainment news website Entertainment Tonight, citing an unnamed family source, reported on Monday that a funeral for Ms. Brown is expected in Atlanta this week. Her body then would be taken to New Jersey to be buried alongside her mother in Westfield. Representatives of the family have released no details on funeral arrangements.