Parker on par for record books
Fred Jeter | 7/31/2015, 4:55 a.m. | Updated on 7/31/2015, 4:55 a.m.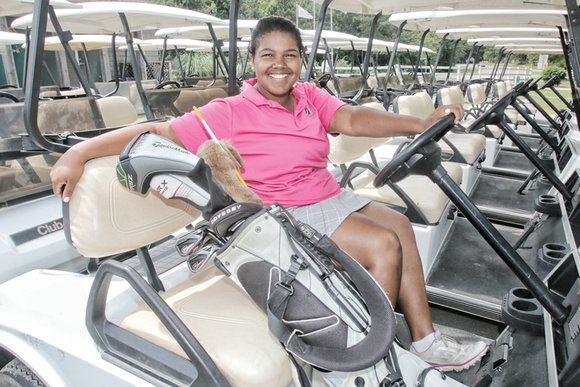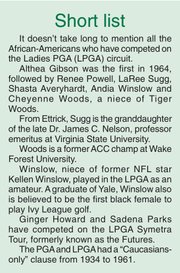 Golfer Addie Parker is adept at making pars, birdies, eagles and, yes, history.
The 15-year-old daughter of Flotilla and Tracy Parker of Chesterfield County has blazed her name into the Richmond Golf Association (RGA) record books.
In capturing the RGA's annual Girls' Junior (U-18) Championship July 21-22 at Mill Quarter Plantation Golf Course in Powhatan County, the rising Monacan High School junior recorded these "firsts:"
• First African-American to win the Junior Championship.
• First girl to break 70 for 18 holes.
• First girl to card two eagles in a single round.
• And, perhaps most telling, the first girl to post a better score than the boys' winner.
A product of First Tee of Richmond, Addie filed a 74-69 – 143, to win the girls' division by seven strokes over defending champ Carson Durham of Dinwiddie.
Boys' champion Boyd Peete shot 76-69 – 145.
Don't let Addie's 5-foot-3 stature fool you. Lurking behind that friendly smile is a power hitter.
"My strong suit is driving off the tee," she said. "I'm pretty good at finding the fairways and putting myself in good position for my next shot."
She launches tee shots close to 240 yards and posted two eagles (par-5 third hole and par-4 fifth hole) in the final round at Mill Quarter.
The Virginia State Golf Association lists Addie's handicap as a skinny 3.
Asked how she got started in a sport that isn't very popular among African-American girls, her quick reply was: "Dad had run out of playing partners and took me and my brother along so he'd have someone to play with."
Addie was just 3 when Flotilla Parker took his daughter along for her golfing introduction.
By 7, she was playing tournaments.
By 9, "I started beating my dad," she says with a laugh.
Older brother Gavin also played golf for Monacan High and now is enrolled in the PGA Golf Management School at Campbell University in Buies Creek, N.C.
Golf already has taken Addie — her given name is Adelaide — to far away places.
Last December, she competed in the International Children's Games at Lake Macquarie, Australia.
Facing 62 opponents from around the globe, Addie finished in a tie for fourth Down Under.
Last fall, she was 20th at the Virginia High School League's girls' championship at Belle Haven Country Club in Alexandria.
"My goals are to go back to girls' states and improve my finish, and also to help the boys' team make it to the states on their own," she said.
Girls compete with boys during the regular meets in the fall. Last year, she helped Monacan High to a third place finish in Region 4A East. Girls tee off from 90 percent of the boys' distance.
The all-girls' states is a one-time event at season's close.
While Addie has a junior academy membership at Stonehenge Golf & Country Club, she considers herself "always a First Tee girl."
She grew up playing at First Tee and this summer is on staff, helping conduct clinics for various youth groups.
"It's great to see so many kids with different ethnicities and with different cultures coming out to play," she said. "You can just feel their enthusiasm. They want to learn."
In 2012, Alexandra Wright made history of her own when she advanced to the finals of the Richmond Women's Golf Association at age 14. The RWGA has no youth division.
Like Addie, Alexandra resides in Midlothian, but attends the IMG Junior Golf Academy in Bradenton, Fla.
You're not likely to spot many young African-American girls such as Addie and Alexandra on the links. While it's not unusual to see participation at driving ranges or putt-putt courses, it is unusual when young black girls advance to the more serious — and costly — tournament circuit.
"Golf really hasn't crossed the bridge to get minorities playing," Addie said. "I'm pushing to get more out there. I know it's been great for me so far."