Butler officially named basketball coach at VUU
Fred Jeter | 5/1/2015, 4:20 p.m. | Updated on 5/1/2015, 4:35 p.m.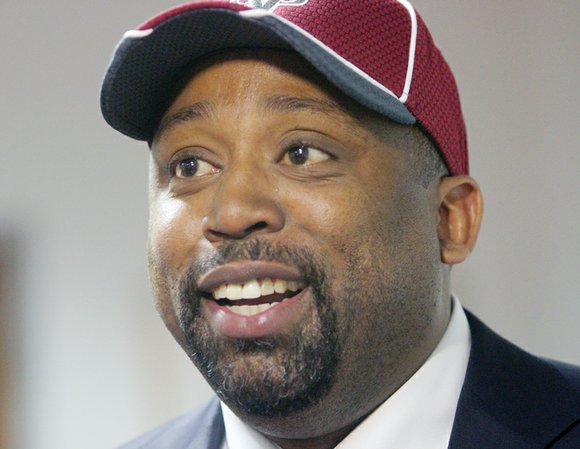 Jay Butler has proven to be an exceptional college basketball coach for women's teams.
Now he's out to achieve similar success coaching a men's team.
Butler is the new Virginia Union University men's basketball coach after spending the past 13 seasons — 11 as head coach — directing the women's program at the University of the District of Columbia.
He was formally named to the post and introduced to the media at a news conference Tuesday on the VUU campus.
"If you can coach women, you can coach men," he told the Free Press.
"Only difference I see is on back door passes. With the girls, we use bounce passes. With the guys, we'll be doing alley-oops."
A VUU graduate of the Class of 1998, Butler succeeds Tony Sheals, who was reassigned following a single season that was lackluster, with a 9-18 record.
Butler posted a 177-125 record at UDC, including a 25-5 mark this past season that earned the Firebirds a berth into the NCAA Division II playoffs.
His last experience coaching males was 1999 to 2001 as assistant coach at Bladensburg High School in Maryland.
Butler, who was played for the Panthers under former Coach Dave Robbins, was offered the men's coaching position last year, but turned it down.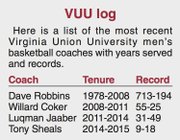 "For one thing, I knew I had a great team returning at UDC. The timing wasn't right," he said.
But he noted he was not going to pass up the job a second time.
"Union has always been my dream job," he said. "I've been planning this for 15 years or so."
It is rare for a coach of a college women's team to become head coach of a men's team.
"Just going on personal knowledge, it has happened before but not frequently," said Rick Leddy, senior director of communications for the National Association of Basketball Coaches. "We do not keep any formal statistics on that."
As a student-athlete at VUU, Butler was recruited out of Archbishop Carroll High School in Washington. He was a play-making guard who participated in 107 wins as a four-year Panther.
"Jay was a complete team player, a smart guard," Coach Robbins recalled. "He never worried about scoring himself, but made the players around him better."
He was on three CIAA championship teams and four NCAA qualifiers.
As a senior in 1996, Butler and the Panthers reached the NCAA Final Four before bowing to Northern Kentucky University in the semifinals.
The star that year was Ben Wallace, who will be joining Butler at VUU as a full-time assistant coach.
"That's got to look good to a big-man recruit, to see a 6-foot-9, former NBA star (Wallace) in the gym waiting to work with you," said Butler. "And I think I can do a good job with the guards."
Wallace was a major supporter of Butler during the hiring process. Also interviewed for the post was former VUU guard Vance Harmon, who now coaches at Henrico High School.
VUU loses two of its top three scorers — Avery Jirmnson and D'Andre Bullard — from last year to graduation. But among the players returning is rising junior Ray Anderson, who Butler says "will be VUU's next All-America."
Butler and wife, Chae, have three children, Jatae, Sam and Lauryn.