Not just another hip-hop show
Sandra Sellars | 5/15/2015, 3:46 p.m. | Updated on 5/15/2015, 3:46 p.m.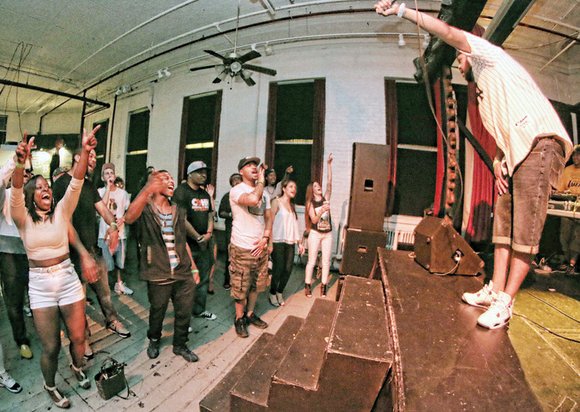 The crowd at Jackson Ward's Gallery 5 was treated to more than a hip-hop concert last Friday as The Cheats Movement presented "Lights, Camera, Action: A Celebration of Hip-Hop Film and Music."
It was an evening for the senses, starting with local artists Goldin, O_Bey and others performing their own independently produced music as clips from classic hip-hop movies streamed along a gallery wall.
Later, a panel of experts, including hip-hop legend Queen Lisa Lee of the Zulu Nation, who starred in the classic hip-hop films "Wild Style" and "Beat Street" in the early 1980s, and Emmy Award-winning director Jesse Vaughan, talked about the current state of the hip-hop film industry and the opportunities available for aspiring hip-hop artists to produce independent films.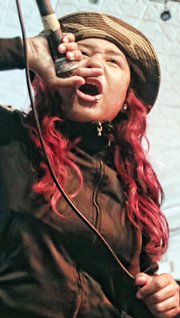 Panelists also included local visual artists Monsee and Rob Roby; Jimmie Thomas, co-founder and producer of the Baltimore-based Curators of Hip Hop; and Kevin Kosanovich of The College of William & Mary Hip Hop Collection.
The panel took questions from the audience and gave sound advice as to how aspiring artists can hone their craft.
Marc Cheatham, founder and creator of The Cheats Movement, a global hip-hop blog, said his goal with the events is to elevate "the positive aspects of hip-hop culture and immerse them in the community."
"We want to move beyond the standard concert and produce events that offer diversity, community, education and entertainment.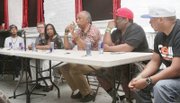 He said the event at the visual and performing art center was "a good start to a growing movement. We were able to educate the community … and the audience was diverse in gender, race and age. Everyone had a great time," he said.
The evening ended with local artists Joey Gallo, Noah O, Michael Millions and Chance Fisher, who treated the audience to live performances.
DJ Billy Nguyen provided music throughout the night.

For more of what's going on in hip-hop culture in Metro Richmond, visit www.thecheatsmovement.com.