Cooper wins in squeaker
48 votes propel minister to Henrico School Board seat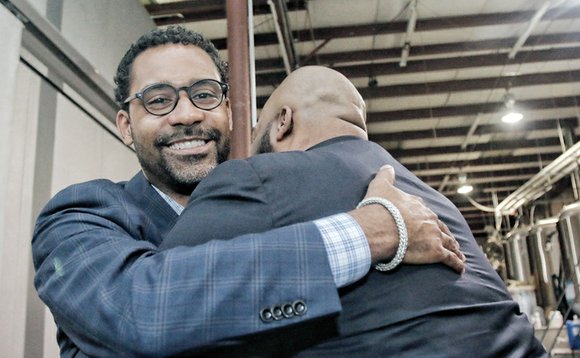 The Rev. Roscoe D. Cooper III won a narrow 48-vote victory in the four-way race for the Fairfield District School Board seat in Henrico County — the area's hottest contest for a local office.
Rev. Cooper, 41, pastor of Rising Mount Zion Baptist Church and board president of a nonprofit health network, barely got by Tara Adams, 43, a financial services employee at Capital One and a longtime PTA volunteer and schools advocate.
The minister, who was two votes behind, pulled ahead of Ms. Adams after absentee ballots were counted in Tuesday's election. He received 166 absentee votes to 116 for Ms. Adams, more than enough to secure the win.
Overall, Rev. Cooper received 5,092 votes to 5,044 for Ms. Adams, who knocked on thousands of doors and had the backing of her pastor, the Rev. Lance Watson, who leads Saint Paul's Baptist Church, one of the area's largest congregations.

The Rev. Marcus D. Martin, pastor of New Bridge Baptist Church, was a distant third with 1,015 votes. The Rev. Pierre Green, pastor of Poplar Mount Baptist Church in Lawrenceville, who was appointed to fill the seat after Lamont Bagby was elected to the House of Delegates last summer, waged a write-in campaign. More than 280 write-in votes were cast.
"I'm humbled by the result and grateful for the support of the voters and for everyone who made calls, knocked on doors and donated," Rev. Cooper said Wednesday.

He said his top priorities would be to make sure all of the district's schools are accredited and "to continue to find ways to reduce disparities in student discipline and academic performance."
Meanwhile, a disappointed Ms. Adams refuses to concede. She hinted Tuesday night she likely would seek a recount if the state Department of Elections preliminary results are confirmed. Because she lost by less than 0.5 percent, the county must cover the cost if she files for a recount.
Meanwhile, John W. Montgomery Jr. won a third term representing the Varina District on the Henrico School Board, winning 55 percent of the vote to overcome a challenge from the Rev. Ralph S. Hodge, pastor of Second Baptist Church of South Richmond.
In other local races of note, Shannon L. Taylor was a Democratic bright spot in Henrico in which a red Republican tide swept most county offices in Tuesday's election.
Ms. Taylor, 47, won her second term as commonwealth's attorney or chief prosecutor, overcoming a challenge from Republican rival T.H. "Tony" Pham, 42, legal counsel to the Richmond Sheriff's Office.
The only Democratic winner for a countywide office, she piled up big margins in the eastern Fairfield and Varina districts and held her own in more Republican areas to the north to win 56 percent of the vote to 43.7 percent for Mr. Pham.
In her victory statement, she thanked voters and promised to continue to ensure "that criminals are behind bars, that those suffering from addiction get treatment, that juveniles have an opportunity to get on the right track and that those with mental illness get the help they need."

Meanwhile, Republican Sheriff Michael L. "Mike" Wade won his fifth term, racking up 64 percent of the vote to defeat challenger James Layne, a Capitol Police lieutenant.
Separately, Republican Heidi S. Barshinger defeated Democrat Tinesha M. Jackson to win the race for county Circuit Court clerk to replace the retiring clerk, Yvonne Smith.
In races for the Henrico Board of Supervisors, Democrat Frank J. Thornton, 74, easily won a sixth term representing the Fairfield District. The retired Virginia Union University French professor won by a nearly 4-1 margin over his challenger, real estate broker John Dantzler, who ran as an independent.
The only other Democrat, the Rev. Tyrone E. Nelson, pastor of Sixth Mount Zion Baptist Church in Richmond, was unopposed for a second term representing the Varina District.
However, Republicans overcame challenges in two other districts to maintain party control of the five-member board. The third Republican, Patricia O'Bannon, was unopposed in the Tuckahoe District.
In Chesterfield County, Democrat James M. "Jim" Holland, 63, won a third term representing the Dale District on the Board of Supervisors. The owner of an accounting business, Mr. Holland won 60 percent of the vote to fend off a challenge from Republican G. Cliff Bickford.
With Republicans sweeping the other four seats, Mr. Holland, the lone African-American on the board, also will be the lone Democrat when the board is sworn in in January.