Simone Biles wins 3rd world championship
Fred Jeter | 11/6/2015, 8:04 a.m.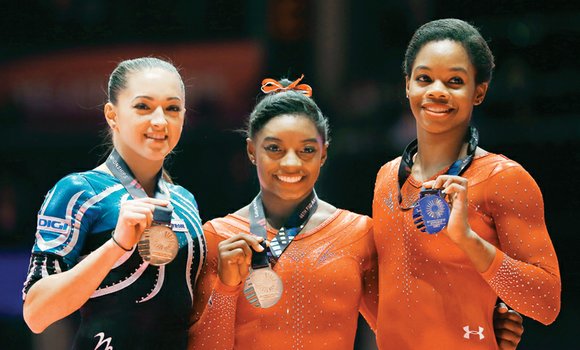 Simone Biles reigns as the queen of gymnastics.
The 18-year-old American continued her dominance by winning her third straight world championship, beating Olympic champion and teammate Gabby Douglas last week at the gymnastic competition in Glasgow.
Biles is the first woman to win the all-around title three years in a row at the world championships. The only other three-time winner, Romania's Larisa Iordache, did not win in consecutive years.
Biles looked more vulnerable this year. She took a step on her vault landing — where she normally sticks — and had a bobble on the balance beam.
But her mistakes were so minor and the difficulty of her routines so great, no one could catch her. Again. Biles scored 60.388 to edge out Douglas, 19, by 1.083 points for the overall title. It was her biggest margin of victory in any of her three titles. Iordache scored 59.10 to take the bronze.
The victory added to Biles' reputation as the best ever.
The Columbus, Ohio, native left Scotland with four gold medals (team, all-around, floor and beam) to go with a bronze on the vault — boosting her world championship medals to 14, the most ever by an American woman, and her gold medal total to 10, the most for a female gymnast.
"I just keep blowing my own mind because, yes, there are goals that I have and then I dream of it and then I make it a reality," Biles said of her victory.
Douglas, meanwhile, became the first reigning Olympic all-around champion to win a medal in the world championships since the Soviet Union's Elena Davydova in 1981.