One year after saying 'I do,' couple enjoys wedded bliss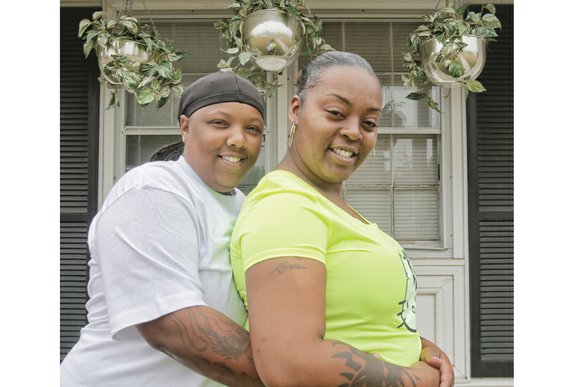 "It's like we're experiencing love all over again," said Shamika Fauntleroy.
"There's a joy and freedom like I've never felt before," added Kristea Fauntleroy.
The Tappahannock residents were the first African-American couple and 12th overall to purchase a marriage license in Richmond after same-sex marriage became legal in Virginia on Oct. 6, 2014.
The women, who exchanged vows shortly after, talked with the Free Press about their first year as a married couple.
"We had gone through so much," Kristea said. "Everything has finally fallen right into place."
Since saying, "I do," Kristea and Shamika said they have been able to move ahead with their lives as one.
Kristea changed her last name from Thompson to take the last name of her spouse.
Earlier this month, Shamika added Kristea as her spouse to her health insurance plan with Northern Pipeline Construction.
The couple also has moved from a small mobile home they were renting into a larger home with a bigger yard. They are raising Kristea's adopted 7-year-old niece, Vayonna.
"Being married is not just a title," Shamika said. "It defines real love. It's like reliving everything from day one — what we worked hard for, setting our goals together and achieving them."
Since the U.S. Supreme Court cleared the way for same-sex marriage last year, 3,598 same-sex couples in Virginia have exchanged wedding vows through August, according to the Virginia Department of Health Division of Vital Records.
The number of marriages during that span was 229 in Richmond, 150 in Henrico County, 118 in Chesterfield County, 27 in Hanover County and 15 in Petersburg.
Prior to their marriage, Shamika and Kristea were partners for 10 years. They celebrated their union with a commitment ceremony in Richmond in September 2014.
And after obtaining the marriage license in Richmond last October, the couple took it to the official who had performed the commitment ceremony. He signed it, making their marriage legal.

Family and friends are fully supporting them in their marriage, they said, and they couldn't be happier.
"It's the best experience ever," Shamika said. "It's what I've always pictured, being with my wife and my child. That's all I ever need."
Kristea agreed and urged other gay and lesbian couples to follow their dreams of marriage.
"I would urge those who love one another not to be afraid and keep pushing, because for me, our marriage is so much a blessing," she said. "We're both so happy now."