Amelia Boynton Robinson, civil rights activist, dies at 104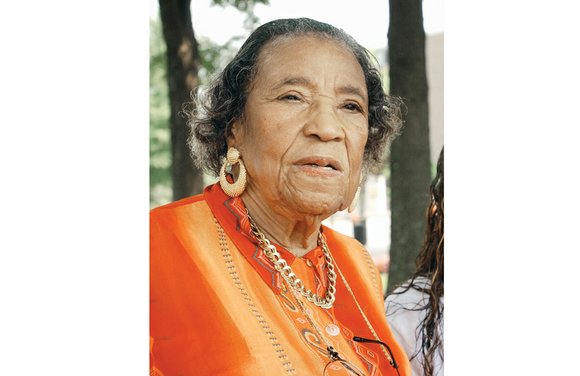 MONTGOMERY, Ala.
Amelia Boynton Robinson helped change America.
The first African-American woman to run for Congress served on the front lines during the Civil Rights Movement.
Almost beaten to death in a march for voting rights in 1965, she was among those who pushed the country to pass a strong law to finally ensure African-Americans could cast a ballot without facing literacy tests, poll taxes and vicious attacks.
Immortalized in a photograph taken on "Bloody Sunday" in Selma, Ala., when white state troopers attacked peaceful African-American demonstrators, Ms. Boynton Robinson's role in the battle for equal rights is being remembered following her death on Wednesday, Aug. 26, 2015, eight days after she celebrated her 104th birthday.

Ms. Boynton Robinson succumbed to a stroke she suffered in July at a hospital in Montgomery, Alabama's state capital.
Her remarkable life was reintroduced to America this year through the movie "Selma," which portrayed the famous march that led to the passage of the 1965 Voting Rights Act.
Earlier this year, President Obama held her hand as they crossed the Edmund Pettus Bridge in Selma to mark the 50th anniversary of "Bloody Sunday" on March 7, 1965.

In January, she attended the State of the Union address as a special guest of Democratic Alabama Rep. Terri Sewell, who credited Ms. Boynton Robinson's 1964 run for Congress with paving the way for her. Rep. Sewell is Alabama's first elected black congresswoman.
"She marched with Dr. Martin Luther King Jr., my colleague Rep. John Lewis, and thousands of others from Selma to Montgomery and ultimately witnessed the day when their work led to the passage of the historic Voting Rights Act," Rep. Sewell said.

Ms. Boynton Robinson grew up in Savannah, Ga., and was an educator. She moved to Alabama in the 1930s with her late husband, Samuel Boynton, an insurance broker. As the Civil Rights Movement gained steam in the 1960s, the couple led efforts in Selma. They let the Student Nonviolent Coordinating Committee use their insurance office as headquarters and opened their home to fellow civil rights activists.
She played a pivotal role in persuading Dr. King to focus on Selma and in planning the Selma-to-Montgomery March for voting rights.
On that fateful March 7, Ms. Boynton Robinson was among the 600 or so people who attempted to cross the Edmund Pettus Bridge in Selma to begin the march to the state capital.
She described the moment many years later in her book, "Crossing Jordan."
"As I stepped aside from the trooper's club, I felt a blow on my arm that could have injured me permanently had it been on my head. Another blow by a trooper as I was gasping for breath knocked me to the ground and there I lay unconscious. Others told me that my attacker had called to another that he had the 'damn leader.' One of them shot tear gas all over me. The plastic rain cap that Margaret Moore gave me may have saved my life; it had slipped down over my face and protected my nose somewhat from the worst of the fumes."
Those who know her say she was a gift in their lives, that she inspired younger generations to carry on the fight.
Before the Voting Rights Act, she ran for Congress in 1964, winning 11 percent of the vote.

"She was courage personified," said Yomi Goodall, a friend and relative. "She was inspiration and strength."
Samuel Boynton died in 1963. Ms. Boynton Robinson later married a former Tuskegee Institute classmate, James Robinson, who died in 1988.
Ms. Boynton Robinson lived the last decades of her life in Tuskegee, Ala.