Despite setback, sibling catering business expanding
Jeremy M. Lazarus | 9/11/2015, 2:06 a.m. | Updated on 9/11/2015, 2:06 a.m.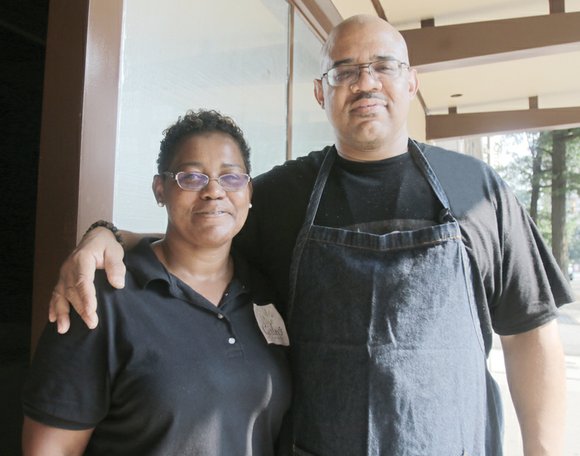 Their food was too popular.

That's why the owners of GFC Catering contend they no longer deliver their trademark $5.55 Friday lunch deal to the Virginia Department of Motor Vehicles' headquarters.

For months, the company, which brother and sister Franklin Crump and Helen Holmes own and operate, delivered 50 to 60 boxed lunches to eager employees on the last day of the work week.

No more. An employee who took the lunch orders was told to stop using DMV computers to collect and transmit the bulk orders for GFC's trademark "down home food with an upscale touch," Ms. Holmes explained.

The employee was told the action amounted to "soliciting," which is not allowed, Ms. Holmes said.

Ms. Holmes said GFC also has been halted from delivering bulk orders to several big companies that once welcomed them, including the Wella Corp. factory in Henrico County and a health care company in Chester.

"We were told our deliveries created too much of a commotion," Ms. Holmes said. "Too many employees were coming to the lobby all at once to get the meals, and it didn't look right."

The loss of the big orders has put a big dent in the catering company's ability to feed the homeless.

The siblings use revenue from the sale of their Friday lunches to create boxed lunches they give without charge to homeless people — one of the attractions for those ordering.

The duo started the $5.55 lunch plan more than two years ago after meeting Shawn Minter, a restaurant owner who was serving food to the homeless at 18th and East Broad streets on Wednesdays.
The project has since been taken over by Tonya Pulliam, CEO of Pulliam Innovative Consulting Firm, who is involved with the nonprofit Help Somebody to benefit the homeless and disadvantaged, including providing food and clothing.

At one point, GFC was delivering more than 100 meals to the midweek site in Shockoe Bottom, but that has slacked off.
"We can't afford to make as many meals for the homeless. Last week, we delivered 28," Ms. Holmes said.

Still, their efforts to offer an inexpensive, tasty lunch has helped put the company on the Richmond food map, Ms. Holmes said. The $5.55 lunches on Fridays are served out of the company's combination catering center and budding restaurant, Miss Girlee's, at 112 N. 5th St. in Downtown. They named their catering firm and the restaurant for their late grandmother, Girlee Frances Crump, a true believer in the value of a home-cooked meal. Her recipe for potato salad is now a staple of their offerings that also include fried chicken, cole slaw, crab cakes and other Southern homestyle offerings.

They've come a long way from their start in Ms. Holmes' kitchen with $23 in the bank. Ms. Holmes said she thought her brother "was crazy" when he urged her to quit her job as a secretary to start the business.

Still, with the support of her husband, Sherlock Holmes Jr., she said she ended up taking the plunge in 2009 because she knew just how talented her brother is in preparing food.

"I trusted him," she said.

They had no equipment and only their cars for deliveries. But once they put their company's offerings on websites such as Facebook and Instagram, they started getting orders, Mr. Crump said, and have not looked back.

Now, they cater up to 40 events a month, such as weddings, receptions and small gatherings, with the help of 15 part-time employees. They also are beginning to create their restaurant.

A few weeks ago, they started offering a Thursday night seafood buffet and a Sunday brunch. This month, they are planning to open additional days to attract the business of spectators anticipated for the upcoming international bike races in Downtown.

The siblings have an easy partnership. Mr. Crump controls the kitchen, while Ms. Holmes primarily handles the business details.

Now 47, Mr. Crump said he started cooking when he was 13 and continued learning in cooking classes at Charles City County High School. He also learned by working in restaurant kitchens in Richmond and then working his way across the country in a variety of upscale eateries.

After returning to Richmond, he wanted to put his skills to use. After getting his sister involved, he has focused on food that satisfies customers.

"I love it when people tell me how much they enjoyed the food," he said. "That's what really keeps me going."